Cardinal Seán Patrick O'Malley Announced as Commencement Speaker
April 11, 2018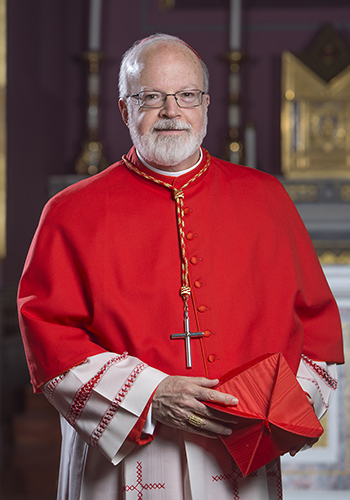 Dr. Steven R. DiSalvo, president of Saint Anselm College has announced that Cardinal Seán Patrick O'Malley, O.F.M. Cap., will address the class of 2018 as the college's commencement speaker.
The ceremony, on Sunday, May 20 will begin at 2 p.m. on the lawn in front of Alumni Hall. Saint Anselm College will bestow three honorary degrees during the commencement exercises:
Richard L. Bready '65, former Chairman, President, and Chief Executive Officer, Nortek, Inc., philanthropist and Saint Anselm College trustee.
John F. Romps Jr., professor emeritus, Saint Anselm College, forensic economist.
Eileen M. Stuart-Shor '71, lecturer, University of Massachusetts, Boston, and Nurse Practitioner, Beth Israel Deaconess Medical Center.
Cardinal Seán Patrick O'Malley
Cardinal Seán Patrick O'Malley, O.F.M. Cap., was born in Lakewood, Ohio. He was professed as a Capuchin Franciscan in 1965 and ordained a priest of the Order in 1970. He earned a Ph.D. in Spanish and Portuguese literature from The Catholic University of America, where he taught from 1969 to 1973. Upon leaving Catholic University, Cardinal O'Malley founded Centro Catolico Hispano (Hispanic Catholic Center), an organization that provides educational, medical and legal help to immigrants.
He was ordained a bishop in 1984 and named bishop of the Diocese of St. Thomas in the Virgin Islands in 1985. He was subsequently named bishop of the Diocese of Fall River, Mass., in 1992, and bishop of Palm Beach, Fla., in 2002.
In the summer of 2003 Bishop O'Malley was named Archbishop of Boston. He was created a cardinal by Pope Benedict XVI on March 24, 2006.
Cardinal O'Malley is currently Chairman of the United States Conference of Catholic Bishops Committee for Pro-Life Activities and serves or has served in multiple capacities on other committees: as chairman and member of the Committee on Clergy, Consecrated Life and Vocations, is a member of the Committee on Shrines, the Committee on Marriage and Family Life, the Committee on Migration and the Commission on Religious Life and Ministry. He is also a member of the Secretariat for the Church in Latin America, assisting with meetings of the Cuban and Haitian Bishops Conferences.
Cardinal O'Malley presently serves on the Board of Trustees of The Catholic University of America. In 2010 Pope Benedict appointed Cardinal O'Malley as a Visitator for the Church in Ireland. In 2013 Pope Francis appointed Cardinal O'Malley to the Council of Cardinals, as a special advisor to the Holy Father, and in 2014 as President of the Pontifical Commission for the Protection of Minors.
Richard L. Bready '65
Rick Bready is one of Rhode Island's leading businessmen and philanthropists. Bready retired in 2011 after 36 years of service to Nortek Inc., and its predecessor companies. Under his leadership as Chairman, President, and Chief Executive Officer, Nortek grew into a leading globally diversified manufacturer of residential and commercial building products.
Rick has shown his generosity in many ways to the college. In addition to numerous matching fund Bready Challenges, he established the Richard L. Bready Chair of Ethics, Economics and the Common Good, the first endowed chair in the college's history, was established in 2005.
Rick holds multiple leadership positions in education, business, and finance. He serves as a Director of Bank Rhode Island, Providence Performing Arts Center, and has been a member of the American Institute of Certified Public Accountants, and the National Association of Manufacturers. He joined the Saint Anselm Board of Trustees in 2002.
He graduated from Saint Anselm College in 1965 with a B.A. in economics, and received his Master's degree in accounting from Northeastern University. He has an Honorary Doctorate of Business Administration from Johnson & Wales University, and currently serves as president of the Board of Trustees at Roger Williams University.
John F. Romps, Jr.
John Romps is a professor emeritus of Saint Anselm College, where he made his career serving in the economics and business department for over 45 years. Having also taught at Fordham University, the University of New Hampshire, and Granite State College, Romps has expertise in economics, money and banking, investments, economic history and sports economics.
John began his tenure at Saint Anselm College in 1969 as an instructor of economics, was promoted to assistant professor in 1972, and associate professor in 1989. He served as chairperson of the economics and business department from 1980 to 1995. In 1988, Romps was honored by his colleagues with the American Association of University Professors Distinguished Faculty Award for his outstanding service to business students, the humanities program and the larger community.
In addition to his teaching, Romps has worked as a self-employed forensic economist since 1971, testifying as a financial expert in various legal proceedings, while also speaking on historic economic events to news outlets and in public forums.
Since retiring from teaching, he has become involved with CASA of New Hampshire as a court-appointed special advocate for children in cases involving neglect or abuse.
Romps earned a B.A. and Master's degree in economics from Fordham University in 1967 and 1969 respectively. In 1982, he was awarded a Master's of Business Administration from Plymouth State College.
Eileen M. Stuart-Shor '71
Eileen Stuart-Shor, Ph.D., NP-BC, FAHA, FAAN, is a Lecturer in the College of Nursing and Health Sciences at the University of Massachusetts Boston and a Nurse Practitioner at the Beth Israel Deaconess Medical Center. She recently completed her service as the Chief Nursing Officer at Seed Global Health.
Her clinical work and program of research is focused on health disparities, nurse-led models for improving cardiovascular outcomes for underserved populations, and building capacity for high quality, safe care in under-resourced countries. This work has extended from Roxbury, Mass., to Kenya where she is collaborating on an initiative to address the emerging cardiovascular/ metabolic crisis in that country. In her work with Seed she was tasked with overseeing nursing strategy in the Global Health Service Partnership program; a unique public-private partnership focused on increasing capacity for safe, high quality nursing education and practice in five African countries.
Dr. Stuart-Shor's work establishing a nurse-led model for healthcare for the homeless in Boston was recognized with a Schweitzer Fellowship and Humanitarian Award from the City of Boston; her work in Roxbury received the Cardiovascular Disease and Stroke Prevention Award for Innovative Programs for the under-served and her work in Kenya was honored with the Jamhuriwood Humanitarian Award; Friend of Kenya. She has authored numerous peer-reviewed journal articles and one book.
Eileen received her undergraduate degree from Saint Anselm College; Masters degrees as a Cardiovascular Clinical Nurse Specialist and Adult Nurse Practitioner from Boston College, and a Doctorate from the University of Massachusetts Boston in Nursing and Health Policy. She completed an NIH-funded post-doctoral fellowship at Beth Israel Deaconess Medical Center/Harvard Medical School in the Cardiovascular Epidemiology Research Unit.
Saint Anselm College
Founded in 1889, Saint Anselm College is a nationally-ranked four-year liberal arts college providing a 21st century education in the Catholic, Benedictine tradition. Located in the greater Boston region in southern New Hampshire, Saint Anselm is well known for its strong liberal arts curriculum, the New Hampshire Institute of Politics, commitment to inclusiveness, a highly successful nursing program, and a legacy of community service. www.anselm.edu
Related News