Chapel Art Center presents new exhibition "The Sacred and the Ordinary"
October 30, 2017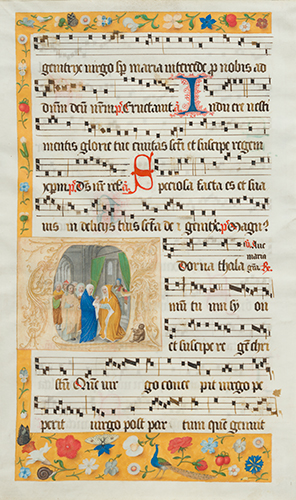 Marking its fiftieth year in 2017, the Alva de Mars Megan Chapel Art Center at Saint Anselm College presents, The Sacred and the Ordinary: Examining Works from the MacDonald Collection, a special exhibition from the gallery's permanent collection. The exhibition is available for viewing through December 9.
The MacDonald Collection was established with a generous gift from Mr. Hugh J. MacIsaac in 2002. It is a special designation within the Chapel Art Center's permanent collection of artworks, dedicated to pieces with subject matter depicting Biblical scenes, mysteries of the Catholic faith, and representations of interior or domestic life.
"We chose to present this show under the title, The Sacred and the Ordinary in recognition of the dual spirits animating The MacDonald Collection, founded to honor both the unknowable mysteries of faith and the subtle beauty found in everyday moments," said curator Margaret Dimock in her curator's note.
The collection is comprised of many exquisite works on paper, ranging in style and period from Old Master prints and drawings to twentieth-century lithographs. It gives viewers an ideal opportunity to observe, analyze, and reflect upon the methods and aesthetics of prints, drawings, and other works on paper.
"Several of the artists represented in the collection are among the foremost names in the history of art, including the great Dutch Master Rembrandt van Rijn, and Albrecht Dürer, a leading figure of the Northern Renaissance and one of the greatest painters and printmakers of his era," said Dimock.
"The cultivation of The MacDonald Collection has tremendous significance for Saint Anselm College," said Fr. Iain MacLellan, O.S.B., director of the Chapel Art Center in his director's note.
"The aspirations of a Catholic, liberal arts college have long been associated with art and beauty," he said. "The study of the fine arts greatly enriches the educational experience, fostering the abilities of observation, appreciation, and interior gratification. The MacDonald Collection assists in refining these values, as the works become more closely identified with our own culture."
In conjunction with this exhibition, the Chapel Art Center will host several events, including a workshop on historic gilded frame identification and conservation, featuring Susan Jackson, owner and founder of Harvard Art, and Allison Jackson, frame conservator at the Harvard Art Museums and a freelancer conservator in New Hampshire. They will present a lecture on gilded picture frames including the historical styles, construction and techniques, their work as frame and gilding conservators as well as provide a gilding demonstration. Period Frames: History, Materials and Conservation will take place on Thursday, November 30 at 5 p.m.,
All events are free and open to the public. Seating for lectures and concerts is limited. To reserve seats, please call (603) 641-7470 or email chapelartcenter@anselm.edu.
For more information visit www.anselm.edu/chapelart
Other Upcoming Events