Chapel Art's Spring Exhibitions Open
February 12, 2018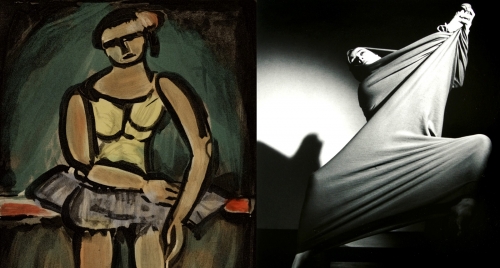 A pair of early 20th century exhibitions, one drawings and one photographs, are on display at the Chapel Art Center from Friday, February 16 through Saturday, May 5 at Saint Anselm College. Presenting two artists at crucial moments of their careers, the complementary series– Georges Rouault: Le Cirque and Barbara Morgan: Dancing Atoms–showcases Georges Rouault and Barbara Morgan.
A public opening reception will be held Thursday, February 15 from 5 - 7 p.m., the evening prior to the official opening of the show.
Georges Rouault: Le Cirque
Le Cirque is a color aquatint series described by Maggie Dimock, curator of Collections and Exhibitions, as "providing a glimpse of the French Expressionist at his most penetrating and emotionally incisive." The series of portraits depicts a frequent subject for Rouault: Parisian circus performers, individuals who then lived on the edges of society.
Born in Paris in 1871, Rouault apprenticed as a stained-glass artist before entering the École des Beaux-Arts and developing a unique style characterized by treatment of light and shade as well as strong emotion which Dimmock characterizes as "haunted expressionist fervor."
Prints displayed in Le Cirque appear, courtesy of the Hood Museum at Dartmouth College. They are part of a collection donated in memory of the late Barbara J. and David G. Stahl. Barbara Stahl was a biology professor at Saint Anselm College for 50 years, from 1954 – 2004, and a renowned paleoichthyologist.
Barbara Morgan: Dancing Atoms
Dancing Atoms presents 30 photographs by American photographer Barbara Morgan in the early period of her career in New York City, starting in the 1930s. A trained painter and printmaker, Morgan experimented with photography upon the suggestion of her husband, Willard Morgan, an early photo-historian and editor. Moving to New York City in 1930, Morgan rose to prominence in American photography. She was an early proponent of photomontage.
Dimock says Morgan entered into a creative partnership with Martha Graham, the pioneering modern dancer and choreographer of the era: "She and Graham produced some of the most emblematic images of modern dance ever created."
Related Event: On Thursday, February 22, Iain MacLellan, O.S.B., Chapel Art Center Director, and Curator Maggie Dimock will present a gallery talk exploring how the role of performers and concepts of performance animate Georges Rouault's circus prints and Barbara Morgan's dance photographs. Also, a public screening of the film Martha Graham: Dance on Film will be held Thursday, April 5 at 4 p.m.
All events at the Chapel Art Center are free and open to the public. The Center is open at 10 a.m. Tuesday through Saturday, closing at 4 p.m. each day except Thursday when it is open until 7 p.m. Visit www.anselm.edu/chapelart for more information.