Christine Gustafson Named the College's First Dean of Academic Excellence
September 21, 2021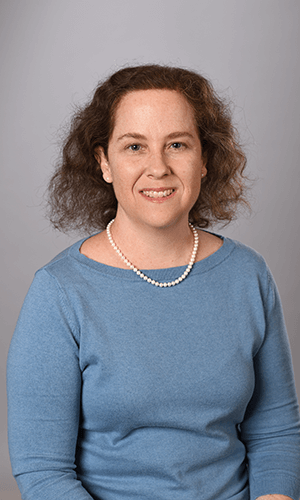 The college's first dean of academic excellence filled by professor and former Associate Dean Christine Gustafson, Ph.D. began officially July 1. This new role is a part of the college's strategic plan for academic initiatives to ensure student academic success and achievement, so that each student has the opportunity to reach their full potential. The leadership changes were announced by President Joseph A. Favazza, Ph.D., last winter. The restructuring of the academic division included the dean and associate dean positions which were re-imagined as dean of the faculty and dean of academic excellence respectively.
"We restructured the Academic Affairs administration to ensure that all student facing academic services are well-coordinated and resourced," says Dr.Favazza. "Through the leadership of the new dean of academic excellence, academic deans and directors will work together in a more intentional way to provide students with high-impact learning opportunities and strong academic support across the continuum of ability and achievement."
Dean Gustafson explains that the mission of the new role is to "enhance the student academic experience." Dean Gustafson hopes to connect in-classroom experiences more intentionally with out-of-the-classroom experiences. From study abroad, internship opportunities, and community engaged learning to undergraduate research, the goal of the addition of the position is to bring together all the aspects of Saint Anselm College that are already present, and enhance them. Dean Gustafson believes that "it is important to emphasize to students that regardless of their major, there are endless out-of-the-classroom opportunities that will help them maximize their knowledge and skills."
This new position will strengthen the college's tracking and reporting of student outcome data and overall data of student academic success. This data will include information about student involvement—seeing how many students are participating in co-curricular activities, study abroad, internships, or undergraduate research. By reviewing this data, the college will determine why students may not be as involved in experiential learning opportunities while also guaranteeing that all students have access to those experiences that provide them with a well-rounded education. "Having this data will help us ensure that every student has the ability to flourish, to be the best they can be," says Dean Gustafson. The means for success are already present at Saint Anselm; this new position will connect students with campus opportunities that students previously may not have considered.
The dean of academic excellence is responsible for ensuring student academic success through the coordination and delivery of academic resources. Therefore, Dean Gustafson will supervise the directors of the Academic Resource Center, Career Development Center, Study Abroad Office, Meelia Center for Community Engagement, the first-year and sophomore deans, faculty directors for the Honors Program, the Fulbright/ Postgraduate Scholarships Program, college debate, undergraduate research initiatives, and pre-professional programs. The offices overseen by her work closely with students to provide opportunities that further their education while also becoming more involved both on-campus and within the greater community.
"This new position will allow us to get the word out to students more about opportunities available and make sure that everyone has access, to make it possible for all students to have rewarding experiences," Gustafson says.
Dean Gustafson came to Saint Anselm College in 2004 as an assistant professor of politics. She was tenured and promoted to associate professor along with becoming the associate dean for faculty development and assessment in 2012 and then associate dean of the college in 2015. She continues to publish and present in her fields of Brazilian political economy and democracy, as well as Church/state relations in Brazil and Latin America.
In addition to the creation of Dean Gustafson's position, the college named Vice President for Academic Affairs Br. Isaac Murphy, O.S.B., the newest executive vice president. In this role working in the President's Office, Br. Isaac will supervise a number of administrative offices including Human Resources, Institutional Research, and Sponsored Programs and Research. He will also provide general support to the President's Office and handle special projects. Dean Mark Cronin, Ph.D., will continue his work as dean of faculty while also serving as the interim vice president for academic affairs (VPAA) for the 2021-2022 academic year. The college in the process of conducting a national search for the VPAA position with a start date of July 1, 2022.
Related Links