Students Honored for Leadership and Service with Coleman Awards
April 16, 2018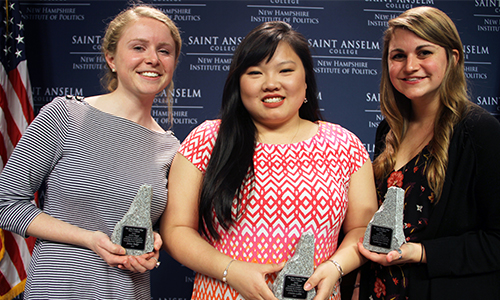 Eighteen Saint Anselm students were recognized on April 11 at the college's 25th annual Paul S. Coleman Volunteer Service and Leadership Awards, for their dedication to and impact on Saint Anselm College and the surrounding community. The ceremony bestows department service awards, as well as two senior awards to students who embody the spirit of Paul Coleman.
This year's recipients, seniors Katherine Carey (social work) and Lisette Labbe (psychology), received the Paul S. Coleman Senior Service Award for Outstanding Service Leadership, while Jenna Baker (mathematics and secondary education) was recognized with the Paul S. Coleman Senior Service Award for Outstanding Service Engagement.
Cory True '09 offered keynote remarks before the presentation of the awards. Upon graduating with a degree in politics, True returned to the site of his first Service & Solidarity Missions Trip: the Pine Ridge Indian Reservation in South Dakota. At the non-profit organization Re-Member, he served as a program manager and construction supervisor, guiding thousands of volunteers through their Re-Member experience. In 2010, he returned to the Hilltop to work in the college's communications and marketing office as the integrated communications manager. During that period, he continued to volunteer for Re-Member, holding various roles on the organization's board of directors including board chair, vice president, and secretary. In June, he will return to Re-Member full-time as the organization's executive director.
True congratulated the nominees and shared with them his story of volunteer service and service leadership experience on "the Rez." In his parting wisdom to them, he urged them to do what they can to help others but know their limits, and to take the time to celebrate their accomplishments.
"You have the capacity to do so much good. And I have no doubt that many of you will leave lasting impacts in the communities where you will work, and serve, and live and love. In your time at Saint Anselm, you've already proven that to be true," he said.
"Take time to celebrate the incredible work, the challenges overcome, the strengthened partnerships, the GOOD in whatever it is that gets you up in the morning feeling energized, and sends you to bed tired, but already excited about the opportunity that the next day brings," said True.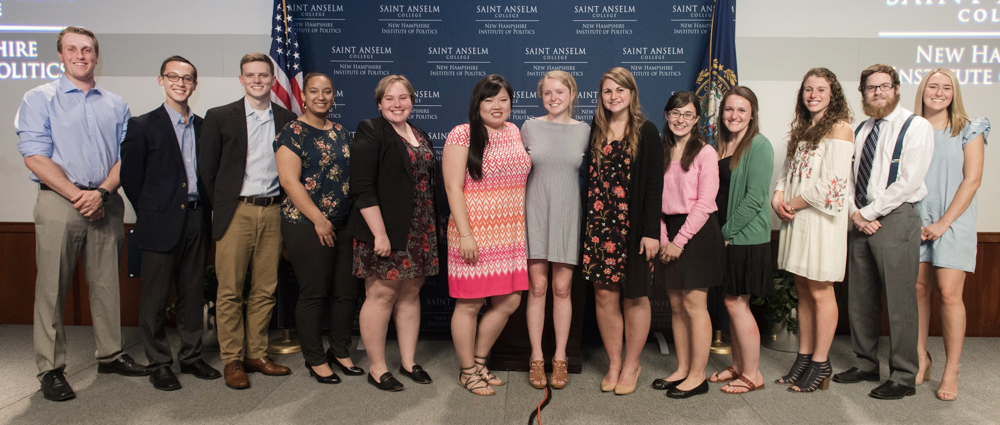 Senior Service Awards
Eighteen students were nominated to receive the prestigious Senior Service Awards:
Jenna Baker (mathematics and secondary education), Emma Bishop (politics and criminal justice), Katherine Carey (social work), Taylor Cudhea (nursing), Kyle Forgit (English), Kelsey Frahlich (nursing), Griffin Fraser (sociology), Jonathan Gooding (business), Lisette Labbe (psychology), Adrianna Manzi (biology), Danielle Phinney (communication), Brandon Pratt (politics), Sheila Ramirez (social work), Georgie Rooney (social work), Zachary Sirowich (environmental science), Joseph Smith (business), Heather Sullivan (nursing), and Madison Vigneault (biochemistry)
Prior to awarding the prestigious Coleman Awards to the three seniors, Mrs. Pauline Dowd '87, a former student of Professor Coleman's, spoke about her experience studying under him. A social worker, she attended Saint Anselm because she wanted an education and wanted to help people. "He was a great professor; gentle with the kids, always there to listen. A wonderful man," said Dowd. "He would be so proud to see these students today who have done so much."
Paul S. Coleman Senior Service Award for Outstanding Service Leadership
Lisette Labbe, psychology
"Not only will she be leaving her mark at Saint Anselm College as a whole, but Lisette has made a tremendous impact on me and the Multicultural Center," said Wayne Currie, director of the Multicultural Center.
An engaged student leader, Labbe has played a leading role in the center's ever-expanding events and programs. She is also an active member of the Multicultural Student Coalition, and a participant and later a mentor in the Transitions Program.
 "Lisette has grown to be an outstanding student leader. Many students look to her for guidance as a role model," said Currie.
Labbe's perspective and good work has been an important addition to the committees, organizations, departments, and clubs that she serves. As a student representative on the Diversity and Innovation Fund Committee and the President's Steering Committee for Diversity and Inclusion, she assists with the work of the Diversity Climate Survey Subcommittee as well as the Recruitment and Retention Subcommittee. She is president of the National Honor Society of Leadership and Success, a psychology ambassador, a member of the psychology honor society, and an honors program council member.
Paul S. Coleman Senior Service Award for Outstanding Service Leadership
Katherine Carey, social work
"Through her service leadership at the Meelia Center, in the residence halls, and across campus she has not only led others by her example, she has been a support. She has not only brought others to service, she has inspired," said Nickie Lora, assistant director of the Meelia Center for Community Engagement in speaking about Carey.
For four years, Carey has worked in and volunteered through the Meelia Center. She helped create a dialogue program, "Cupcakes and Conversation," to engage her peers in the discussion of complex and important topics such as race, poverty, and the stigma of mental illness. She's worked off-campus with Manchester community leaders to address issues and with youth to help them engage positively in their community and find their own voice.
"At the Meelia Center she will be leaving behind a legacy of service leadership that has shaped how we engage with community partners, support students in service and leadership, support service-learning and faculty, and train our service leaders," said Lora. "Walking alongside has an empowering effect on people, and has inspired her peers to engage more fully, to develop their skills more fully." Directing her comments to Carey, Lora shared, "Your tireless work in the community and on this campus has left a positive impact that we will be feeling for years to come."
Paul S. Coleman Senior Service Award for Outstanding Community Service
Jenna Baker, mathematics and secondary education
"During her four years at Saint Anselm, Jenna Baker has been dedicated to countless service activities and a role model to her peers throughout. This bubbly, hardworking, compassionate and thoughtful young woman spends most, if not all her spare time engaged in service both through the Meelia Center for Community Engagement and Campus Ministry," said Susan Gabert, director of Campus Ministry.
Actively involved at the Meelia Center, Baker volunteers at Big Brother/Big Sister and coordinates volunteers for DCYF and the Foster Parent Night Out program. Through campus ministry, she has participated and led Service & Solidarity Mission Trips and the Road for Hope. She is continuing her service to others after graduation through a post-graduate service program teaching inner city youth.
"She has passed on the inspiration toward service she gained at Saint Anselm, making a lasting impression on those she serves and those she serves alongside," said Gabert. "Jenna is clearly passionate about social justice and making the world a better place."
Department Service Awards
Rachael Mahoney '18 (criminal justice) The Father Michael H. Custer, O.S.B. Service Award presented to an outstanding student in recognition of exemplary involvement and service to the Office of Admission and Saint Anselm College community. "Tonight's recipient joined the Office of Admission during the fall of her freshman year. Now a senior, her example of Benedictine hospitality has been genuine and admirable," said Wendy Mignault, manager of operations in the Office of Admission. She continued to note that in addition to greeting countless guests with a ready smile, Mahoney has answered phones, entered data, and manned registration tables; her work ethic and dedication to the office is evident in all she does.
Zachary Sirowich '18 (environmental science) The Donna M. Guimont Service Leadership and Engagement Award presented to an outstanding student athlete in recognition of exemplary community service and involvement. "Whether it's as a mentor to his teammates on the football field, a conversation about faith with a fellow student as a peer minister, or renovating sustainable housing for the Ogala Lakota tribe in South Dakota, Zach sees all of this as helping others to be their best," said Sirowich's coach, Joe Adam, head of football.
Luke Douglass '18 (chemistry) The Sister Pauline Lucier Award Campus Ministry Award presented to an outstanding member of Campus Ministry in recognition of exemplary community service and involvement. "Beginning four years ago, with the arrival of a new student to Saint Anselm College who quickly became involved in Campus Ministry and other activities, we in Campus Ministry and elsewhere on campus have experienced a quiet yet steady positive ripple effect as well […] I call this the Luke effect," said Abbot Matthew Leavy, O.S.B. An active member of the campus community, Douglass participated in Road for Hope, the cross-country team, and leads and sings at Wednesday night Mass. He "witnesses to us the power of determination amidst obstacles; and who consistently demonstrates generosity and the joy of the Lord."
Joseph Smith '18 (business) The Campus Ministry Leadership Award recognizes the ministry-leadership of a student for sharing their time, talents, and grace. Director of Campus Ministry Sue Gabert describes Smith as "a young man of deep faith, recognizing his call to serve others, and continually stepping up to the plate as a leader in this faith community." A three-time Service & Solidarity Missions Trip leader, Smith is also involved in student government, the Food, Clothing and Furniture Drive, the Meelia Center, the Knights of Columbus, and has led the Road for Hope and several Urban Immersion retreats. "Joey is a natural leader whom his peers look up to quite naturally, His leadership and dedication to service are intimately connected to his relationship with God and passion for his faith. We in campus ministry have been so blessed to have journeyed with him throughout these three and a half years," said Gabert.
Brandon Pratt '18 (politics) Dean of Student's Award for Service Leadership. "Mentor, orator, a true communicator," said Dean of Students Alicia Finn, who further described Pratt, the student body vice president two years-running, as a natural leader. He is involved in student government, the NHIOP student ambassador program, and has worked for several political campaigns.
Taylor Cudhea '18 (nursing) The Health Services Award granted to a student, who by his or her service to the Saint Anselm Community, has contributed generously and significantly to the care of the ill or injured, to the health education, or to the promotion of a healthy environment for other members of the college community. As captain of the Saint Anselm College EMS team, Cudhea's service and leadership has been especially influential organizing team trainings and trips to conferences, working with a local fire station, and obtaining an EMS vehicle. She is also on the ski team, a key support in Student Activities & Leadership, and a member of the Family Weekend committee. "You can get a feel through her endless energy, heart, and passion for helping people, as to why she is being recognized today," said Maura Marshall, director of Health Services.
Meelia Center Partner Elmwood Gardens: Ashley Robichaud '18 (psychology) The Meelia Center for Community Engagement's Partnership Award presented in recognition of exemplary community service and involvement. "I am thrilled that the Coleman Awards exist as they cause us to pause each year to acknowledge the gifts that lay all around us. Ashley has been one of those gifts at Meelia," said Dan Forbes, director of the Meelia Center for Community Engagement. He explained that for years Robichaud has worked to improve the lives of the K-8 students at Elmwood Gardens. She has been a relentless advocate for them. "Where she will take the lessons and skills she has learned at Elmwood is not yet clear, but it is clear that Ashley is ready for meaningful work that will make the world a better place. For all that she has done and will do, we are forever grateful that she shared time with us at Meelia Center," Forbes said.
Laura Monegro '18 (education studies) The Multicultural Center Service Leadership Award presented to an outstanding student whose leadership efforts have fostered a greater appreciation and advancement of diversity and inclusiveness in the Saint Anselm community. Monegro is president of the Multicultural Student Coalition, a Transitions peer mentor, a coordinator for the Meelia Center's Access Academy program, and a member of Meelia's management team. As a trained facilitator, she has led dialogues on campus for Meelia and the Office of Diversity and Inclusion. "Laura has grown to be an outstanding leader. She has made a difference in our community and we know she will influence others to be leaders and be a great teacher," said Wayne Currie, director of the Multicultural Center.
Sarah King '18 (politics) The Annual Volunteer Award presented to an outstanding NHIOP student leader in recognition of exemplary involvement and community service. Chair of the Kevin B. Harrington Student Ambassador Program at the New Hampshire Institute of Politics (NHIOP) means King leads a group of 94 of her peers as they play key roles at NHIOP events, serving as greeters, ushers, and introducers for guests and VIPs, and participate in four committees that impact the life of the college. An engaged and active citizen and student, King has traveled to Washington, D.C., and California to represent the NHIOP at conferences, worked for ABC News during debates, and is involved in student government. "Sarah is a passionate advocate and empathetic leader, representing those who are most vulnerable and cannot represent themselves and taking people under her wing," said Ann Camann, deputy director of the NHIOP. Her peers, fellow ambassadors Brandon Pratt '18 and Clare Robbins '18 agreed: "Sarah's passion about issues and people are what makes her a great leader and will shape her future in politics," said Camann.
Danielle Phinney '18 (communication) The Family Weekend Volunteer Award given to a committee member in appreciation of his or her exemplary service and leadership to the Family Weekend program and to the campus community. Phinney was an active member of this year's Family Weekend Committee ensuring that the event, which welcomed more than 350 families to the Hilltop, was a huge success. Her passion for bringing this year's theme to life made all the difference. An active leader for the committee, she has been key in recruiting new members for future events. "We already miss her during our meetings to plan the upcoming Family Weekend, but are extremely grateful to have had her as an active participant these past few years," said Arlene Thompson, administrative assistant of Student Activities and Leadership Programs.
Men's Club Soccer, led by Liam O'Rourke '19 (politics), Nick Hotchkiss '19 (international business), Christopher Lackey '18 (finance), and Ryan Whalen '19 (English) was recognized with the Club and Organization Volunteer Award for outstanding service by Kelsey Johansen, assistant director of Student Activities and Leadership Programs. Men's club soccer has been committed to serving the community as they work with Inti Academy Program, providing Manchester's Gossler Park Elementary School students with sports play and classroom activities throughout the year. They put on a 7-game, 12-week season and continue to develop their fitness and skill. "This club has demonstrated substantial growth as an organization, is cohesive and successful as a team, and their community work inspired staff and SGA executives alike," said Johansen.