Coleman Awards Recognize Students for Service and Leadership
May 25, 2021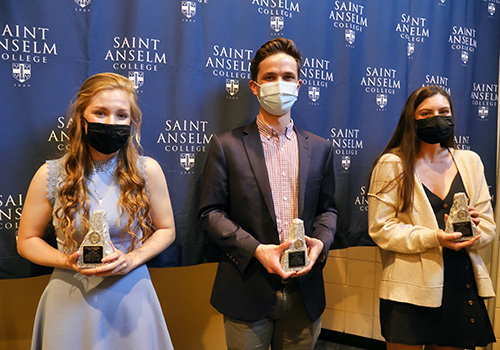 On May 6, the college community recognized 17 students at the 28th annual Paul S. Coleman Volunteer Service and Leadership Awards for their dedication to Saint Anselm College and the impact that they have had on the college and surrounding community. The ceremony included the presentation of department service awards as well as three senior awards to students who represent the values and spirit of Paul Coleman, a former professor at Saint Anselm College.
This year, social work and criminal justice double major Casey Cavanaugh '21 received the Paul S. Coleman Senior Service Award for Outstanding Community Service, while history major Christopher Millett '21 and social work major Theresa Beardsley '21 received the Paul S. Coleman Senior Service Awards for Outstanding Service Leadership.
 
Paul S. Coleman Senior Service Award for Outstanding Community Service: Casey Cavanaugh
Service has been at the focus of Cavanaugh's time at Saint Anselm College since she first arrived at the Hilltop her freshman year. She became involved with the Liberty House, community requests team, and soon became a part of the Koinonia Service Society. Cavanaugh continued her commitment to community service by getting involved in Access Academy, the crisis hotline through YWCA, and most recently becoming a part of the dialogue initiative of the Anselmian Network for Racial Justice.
"All of my experiences have elevated my passion for my two majors, social work and criminal justice, and they have helped me to know that I'm heading in the right direction," explains Cavanaugh. "Whatever career I choose, I know that I want to work with people to amplify the voices of others and to be someone who thinks creatively and listens thoughtfully."
Along with her community service, Cavanaugh has also participated in numerous Service and Solidarity trips through Campus Ministry. These trips and all the service that Cavanaugh has been a part of has shaped her time at Saint Anselm College and aided her in finding what she is truly passionate about in her life.
"One of my favorite quotes is from Mother Theresa, and it says, 'If you want to change the world, go home and love your family,'" says Cavanaugh. "Saint A's is family and the Manchester community is family, and it has been a pleasure and an honor to always come home to walk alongside them in love."
Paul S. Coleman Senior Service Award for Outstanding Service Leadership: Christopher Millett
Christopher Millett has shown an exceptional gift for leadership in all the service he has accomplished during his four years at Saint Anselm College. An active member for Campus Ministry, Millett has participated three times in Road for Hope and gone on three different Service and Solidarity trips, leading Road for Hope once and leading a Service and Solidarity trip once to Phoenix, Ariz. Millett has also contributed to two new courses at Access Academy, facilitated the Anselmian 360 program, and is a member of the Council for Being Catholic and Benedictine.
"Each of these experiences have helped me to gain a more complete and thorough understanding of my place in the world," explains Millett. "Many of these experiences provided a vehicle in which I could use my faith to seek understanding. I cannot imagine my time here at Saint Anselm College without these service experiences."
Millett reflects that one of the really special parts of Saint Anselm College is that almost all of the service opportunities are student lead. The faculty and staff trust the students to lead and genuinely want to see the students grow, allowing such amazing opportunities for service and leadership to really flourish and develop.
"I need to thank those who gave me the opportunity to serve and to lead," says Millett. "Service will make you question almost everything, from what you believe in to who you want to be. Service will push you outside of your comfort zone. Service will challenge you to think, to act, and to respond. As a result, service will help you grow both personally and professionally."
Paul S. Coleman Senior Service Award for Outstanding Service Leadership: Theresa Beardsley
While incredibly involved in her academics and other commitments, Theresa Beardsley has made sure to give back to her Saint Anselm College community. Beardsley started community engaged learning her first semester at the Hilltop at Gossler Elementary and then became involved with Kids Café and the Sununu Youth Services Center (SYSC). Beardsley soon became the site coordinator for SYSC through the Meelia Center, acting as a liaison for others to give back and serve their community. A member of Koinonia, a college service society, that has been an integral part of Relay for Life and the Food, Clothing, and Furniture Drive, Beardsley has made service her top priority during her time at Saint Anselm College. She hopes these service opportunities are great experience as she now moves on to utilize her degree in social work to help people.
"Being in the social work program and a Meelia Center employee has definitely shaped the way I view the world," says Beardsley. "Many service opportunities on campus also have students examine their own privilege, how they have aided in perpetuating social inequalities, and how to work to minimize their role in furthering oppression."
Beardsley hopes that her volunteer work at places like the Webster House, Pine Haven Boys Center, and Arbors of Bedford has made a genuine impact on the people and community around her. She emphasizes that service is important to all people, but is especially significant at the Hilltop.
"I think service is what defines Saint Anselm College, and an experience that is not offered in the same way at other institutions," explains Beardsley. "Whether you're mentoring at after school programs, speaking with retired nuns, designing logos for local nonprofits, or delivering furniture to a family in the community, there's so many ways to engage and I can guarantee you will grow as an individual while making a small difference in the Manchester community."
In addition, college offices and departments recognized also seniors for their outstanding dedication to the college community.
Joseph Venuti '21: Father Michael H. Custer, O.S.B. Service Award for Admissions
Christopher Hart '21 and Allison Irish '21: Donna M. Guimont Service Leadership and Engagement Awards for Athletics
Timothy Holmes '21 and Brendan Flaherty '21: Campus Ministry Service Award
Rileigh Armstrong '21: Sister Pauline Lucier Award Campus Ministry Award
Emily Little '21: Health Services Award
Karina Hernandez '21: Fr. Jonathan Center for Intercultural Learning and Inclusion Award
Meagan Dubois '21: Meelia Center Partnership Award
Caroline Catanese '21 and Haley Bragdon Clements '21: Meelia Center Program Development Awards
Jenifer Wallitsch '21: Kevin B. Harrington Award
Sarah El Khoury '21: Student Engagement and Leadership Outstanding Student Award
Campus Activities Board: SEAL Outstanding Student Organization or Committee
Related Links