College Announces New COVID Information and Plans for Spring Semester
January 29, 2021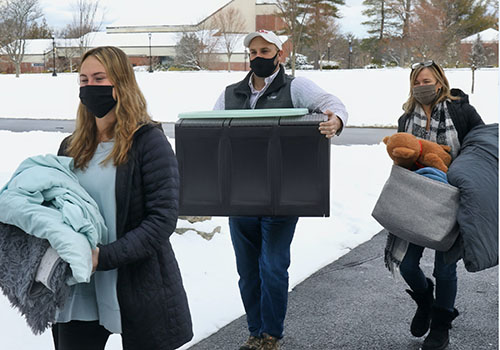 Saint Anselm College was excited to welcome students back to the Hilltop beginning on Jan. 20. College President Joseph A. Favazza, Ph.D., shared details of the phased student return as well as health, academic and student life updates in a message to the community earlier this month. For the spring semester, the College has made some adjustments both in academics and student life to support a positive student experience.
COVID-19 Website
A refreshed COVID-19 website provides the community with additional information on test results and the college's new phased approach to reopening.
STUDENT RESOURCES
A new centralized location for information regarding campus life and COVID-19 called the "COVID-19 Student Resources Page" has been created on Canvas, the college's learning management system. This page contains important information, including academic resources; COVID-19 policies and procedures; resources for mental health and student support services; information about quarantine or isolation; and health and wellness information. Links will bring you directly to pertinent information and resources.
Spring Semester Move-in
Beginning on Jan. 20, resident assistants and out-of-the-region students joined those student-athletes and education majors who had already returned to the college. Sophomore nursing students returned Jan. 25 and the rest of the residential student body are returning Jan. 27–30.
In his message, Dr. Favazza emphasized that the College continues to follow guidance issued by Gov. Sununu, the N.H. Department of Health and Human Services, and the Manchester Health Department, as well as consulting with the American College Health Association and local public health professionals, when making the College's COVID-related plans and decisions.
Health and Safety
This semester the College will continue to provide rapid COVID antigen testing for all students and employees through a satellite lab on campus and a COVID lab technician who is managing the testing. Every student is required to be tested when moving onto campus and then will be part of a surveillance testing schedule throughout the semester. Two additional Sofia2 testing machines have been purchased and the College has a steady supply of testing kits scheduled to arrive throughout the semester.
Academic Schedule
Classes will begin on Feb. 1. As with the fall semester, there will be a mix of in-person, remote and hybrid classes.
Normally there is a week break at Easter, but the academic calendar for the spring semester has been adjusted. There will be no classes on Holy Thursday and Good Friday, April 1-2, leading to Easter weekend. Students will be encouraged to remain on campus during the long weekend, and classes will resume with remote instruction Monday-Wednesday, April 5-7 while all students are tested. It is expected that students will be tested again the following week in recognition of the incubation period of the virus.
Student Life
One area of focus for the semester was an effort create co-curricular activities and other socialization opportunities.
To preserve the health and safety of the community, the College is implementing a phased approach to COVID-related campus restrictions. Similar to the color-coded national alert system, the College phases will allow for incremental change to social interaction and gathering that will be based on cases, containment and capacity. A new COVID Analytics Team will be examining the data on a weekly basis in order to analyze COVID trends and make recommendations about our phase status.
A new wellness initiative, Anselmian Anchors, also is launching this semester to support student. Ashley Fletcher, assistant director of residential education, says it will take a proactive approach to wellness "that encourages and empowers students to weave intentional acts of self-care throughout their week." The program will be embedded throughout the student experience this spring: in the classroom, in student programming, and in campus living. For more information, visit the resources page in Canvas.
Here are directions for viewing the page on Canvas:
Log in to canvas.anselm.edu with your full Anselm email address and password
On the left, click "Courses," then "All courses"
Click "Browse More Courses"
"COVID-19 Student Resources" will be listed on the second page
Related Links