College Announces New Vice President for Enrollment Management
August 7, 2019
Dr. Joseph A. Favazza, president of Saint Anselm College is pleased to announce the appointment of Steven E. Goetsch as the next Vice President for Enrollment Management.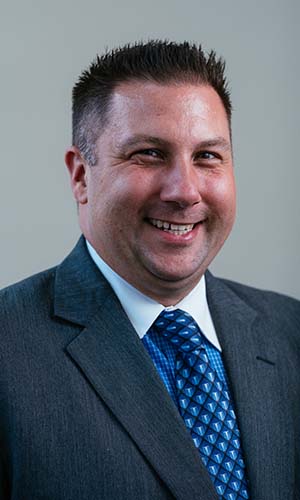 Goetsch who was selected following a national search, comes to Saint Anselm from Felician University in Rutherford, N.J., where he served as the Vice President for Enrollment Management. He will start at Saint Anselm College on August 30, 2019 and will serve on the President's Cabinet and oversee the efforts of the admission and financial aid teams.
"I'm excited Steve is joining us on the Hilltop," says Dr. Favazza. "He brings with him broad experience and a fresh perspective to recruit and retain students in an increasingly competitive environment. For the colleges and universities he has served, Steve has demonstrated success in meeting institutional objectives. I look forward to working with him to build upon Saint Anselm's enrollment success."
Chief Student Affairs Officer and Dean of Students Alicia Finn says, "The Search Committee was pleased to put forth Steve Goetsch as the next Vice President for Enrollment. What was striking about Steve were his experiences, energy, creativity and innovation, values, and adaptability. Interpersonally he is quite approachable, has a penchant for listening, is highly student-centered, leverages humor to motivate, and is attuned to the first-generation experiences of families and students. We believe he is a good fit for our College and look forward to welcoming him to the Hilltop."
"What first drew me to Saint Anselm was the spirit of the college: the mission, the hospitality, and the community," says Goetsch. "Having come from a Franciscan university, I appreciate how a Catholic, liberal arts education can prepare students for the 21st Century. I'm excited to join the Saint Anselm community and to work with the faculty and staff in moving the college's enrollment forward."
Goetsch has demonstrated a track record of innovation and success in higher education enrollment. In his role at Felician, he increased last year's first-year class by 30 percent while maintaining academic levels and decreasing the university's discount rate. Prior to Felician University, Goetsch was the Associate Vice President for Enrollment Management at Keene State College and held additional positions in admission at Felician University, Western Connecticut State University, Fitchburg State College and Regis College.
Most recently, he participated in Harvard University Graduate School of Education's Institute for Educational Management where he spent nine days participating in seminars on topics related to higher education with leaders from around the country and world.
 
Goetsch holds an M.B.A. from Plymouth State University and a B.A. in communication studies from Plymouth State College.