MLK Jr. Dinner Recognizes Social Justice Advocates
January 19, 2018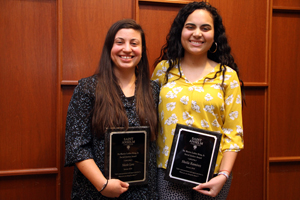 On January 16, Saint Anselm College awarded Nicole Lora '06 and Sheila Ramirez '18 the fifth annual Martin Luther King, Jr. Social Justice Awards. The recipients were announced during the 2018 Martin Luther King, Jr. Dinner, the first event in a month-long series of events honoring Dr. King's legacy. Alumnus Cortney Dunlap '06 was the speaker at this year's dinner.
Lora and Ramirez were recognized for their outstanding leadership, compassion, and courage in promoting social justice while working to eliminate discrimination, oppression, and injustice.
"Both are very passionate about helping others and fully embody what it means to be an Anselmian; they are hardworking, supportive, understanding, accepting and extremely humble," says Multicultural Center Director Wayne Currie.
As keynote speaker, Dunlap spoke about his time on campus, sharing some of the challenges he faced as a student athlete. Overcoming obstacles and motivating himself to be better and do more was a theme of the speech.
"Yeah, I have a degree, and have a great job, and a wonderful family. But I haven't accomplished anything yet. That's what drives me," he said.
Dunlap, who majored in psychology and played football during his time at Saint Anselm, has in fact accomplished a great deal, having earned his master's in counseling psychology and his Ph.D. in education at Saint Leo University. At Saint Anselm, he was a scholarship recipient and received an award for his senior thesis from the Eastern Psychological Association. He is the assistant principal at the New Haven Adult Education and Continuing Education Center and director of Inspirational Care, a non-profit organization he founded in 2014, which provides behavioral health services to adults and children. He is also an adjunct professor in the Educational Leadership Program at Southern Connecticut State University.
Despite all Dunlap has achieved, he always aims higher; a fitting perspective for the kick-off event for the college's month-long MLK Jr. programming with the theme of, "Honor the Past, Impact the Future."
The student-organized Martin Luther King, Jr. Dinner at the New Hampshire Institute of Politics auditorium brought together more than 100 faculty, staff, and students. Over the next six weeks, the Anselmian community will remember Dr. King with a diverse lineup of events including multiple film and book discussions, concerts, lectures, and a candlelight vigil.
In the true spirit of Dr. King, students, faculty, and departments from across campus collaborate to plan diverse programming. This year's celebration is sponsored by Campus Activity Board (CAB), Campus Ministry, Conversatio, Criminal Justice Department, Dana Center for the Humanities, English Department, Fine Arts Department, Geisel Library, Gender Studies, History Department, Lucubrations, Meelia Center for Community Engagement, Modern Languages Department, Multicultural Center, Multicultural Student Coalition, MLK Jr. Planning Committee, New Hampshire Institute of Politics & Political Library, Philosophy Department, President's Steering Committee for Inclusiveness, Student Government Association, Sociology and Social Work Department, Student Activities and Leadership, Theology Department.