College celebrates annual Multicultural Day
September 27, 2021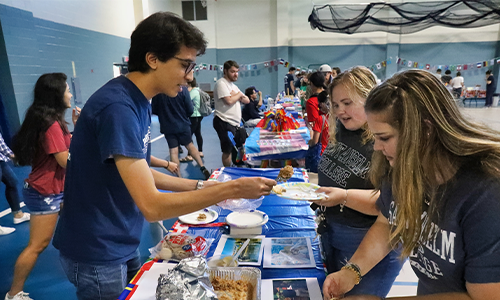 On Sept. 25, 2021, the Father Jonathan Center for Intercultural Learning and Inclusion hosted their annual Multicultural Day. From dance performances to a variety of food options, the day was filled with activities to give students the chance to experience the variety of culture present throughout the world and on Saint Anselm's campus. 
"Multicultural Day is a time to celebrate our diversity with food, music and fun," Wayne Currie, the director of the Father Jonathan Center for Intercultural Learning and Inclusion, tells us.
Anna Gendron '23, the coordinator of this year's event says, "this event is an amazing way for our campus to show its support to those from unique backgrounds and provides an excellent opportunity for students and other faculty members to expand their knowledge on how they can spread diversity and inclusion."
Performances at this year's Multicultural Day included a variety of artistic performances that represented African culture, Asian culture and Hispanic culture. The performances were by Wah Lum Chinese Lion Dancers, Colombian Dancer- Barranquilla Flavorsea and Seacoast West African Dance and Drum. From the vibrant colors of the Wah Lum Chinese Lion Dancers' costumes to the striking Barranquilla Flavor and the rhythm of The Seacoast West African Dance and Drum, each of these performances were unique and captivating to watch.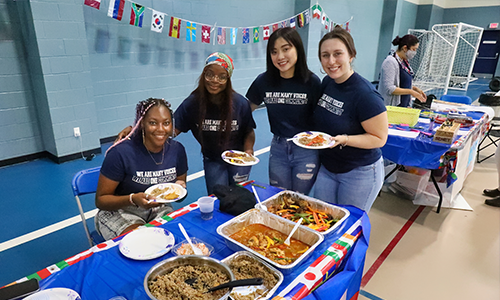 There was a wide array of food options present. The intercultural center created a virtual cookbook where students shared recipes celebrating their culture. From snowball cookies to German Reibekuchen, there were a plethora of a recipes sent to students daily leading up to the big day. At the event itself, food ranged from Hispanic and Haitian to Thai and Middle Eastern. In addition, there was food from local restaurants. 
Students also had learned more about a variety of cultures by visiting tables run by students and educational departments and clubs on campus, including modern languages, French & French Club, Columbia by Valeria Mendoza '22, Haiti by Korah Olivier '22, Mexico by David Chairez '22, Egypt by Youssef Elshaarawy '23, Puerto Rico by Heisha Rodrigues '22 and Sam Salas '25, Vietnam by Hien Pham '22, China by Yihe (Chloe) Peng '23, the Sociology department, Requity Labs by Professor Loretta Brady, the Debate Team, The Irish Club/ Celtic Society, Residential Life, NHIOP, Social Justice club, and the Diversity & Inclusion Office.