Cardinal O'Malley Urges Graduates To Be Part of A Community of Faith
May 20, 2018
On Sunday, May 20, Saint Anselm College graduated 474 students during the 125th commencement exercises. Honorary Degree recipient and speaker Cardinal Seán Patrick O'Malley, O.F.M. Cap., encouraged graduates to live a purposeful life of faith in order to find success and fulfillment.
"I urge you to be part of a community of faith, to be part of a worshiping community that can sustain you and nurture your idealism and sense of purpose," said O'Malley.
"The only real success in life is being able to make a gift of ourselves. This is the success that we wish for all of our graduates. That they will be capable of making a gift of themselves to God and others. And in so doing, they will become protectors of the gifts and caregivers to each other, and a sign of hope."
He concluded, "And today, as you leave this place with something beautiful in your hands make sure that you make your life something beautiful for God."
Following the pomp and circumstance of the procession and invocation, Dr. Steven R. DiSalvo, college president, congratulated the class of 2018.
"It's about time," DiSalvo said, noting the theme of time and its particularly poignant meaning on this day. He recalled many of the graduates' first "times" from arriving on campus to celebrating Hawks' wins. He noted that, although it was finally their time to graduate, their four years on campus are marked by fond memories and the legacy they leave behind, including the new Roger and Francine Jean Student Center Complex, which the class of 2018 was instrumental in designing.
"Today brings closure to your time as an undergraduate," he said. "When you leave campus today, you will have turned a page on an amazing chapter in your life, and will continue to write your story in new places among new people."
"And I leave you with one final thought: college is for four years. Saint Anselm College is forever."
Student speaker, Caroline McKenzie, a psychology major and peace and justice studies minor from Nashua, N.H., addressed her class, reflecting on the college's tradition of holding doors.
"So you see, without realizing it, Saint Anselm College has been priming us to extend this simple Anselmian tradition from our own hearts to our lives beyond this campus," McKenzie said. "In this sense, our commencement today is not just the beginning of us putting into practice our knowledge or our expertise or our shiny new degrees, but the beginning of us holding open the door to the rest of the world."
McKenzie encouraged her fellow graduates to be open to all life has to offer, and to share their blessings with others.
"This college has opened the doors of education and career to each of us," she said. "Do not let the world diminish your Anselmian spirit. It is now our turn to spread our Anselmian values, and hold the door open for all others."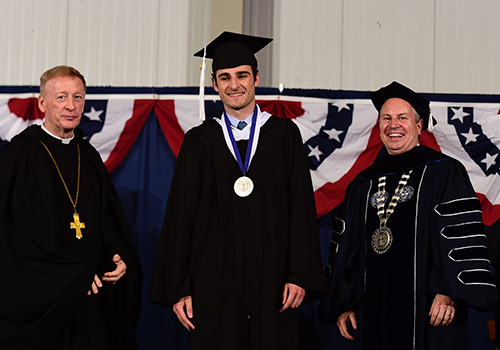 Biochemistry major Andrew P. Bompastore, of Londonderry, N.H., received the Chancellor's Award for the graduate with the highest academic average of 3.989. Bompastore, graduating with honors summa cum laude, will attend the University of Connecticut's School of Medicine in the fall.
Psychology professor Maria McKenna received the award for excellence in faculty accomplishment for her commitment to her colleagues and the college since joining the faculty in 1990. "This faculty member has always focused on the roles of faculty mentor, dedicated scholar, and concerned citizen of the college and the broader community," said philosophy professor Kevin Staley, president of Saint Anselm College's chapter of the American Association of University Professors (AAUP).
Honorary Degree Recipients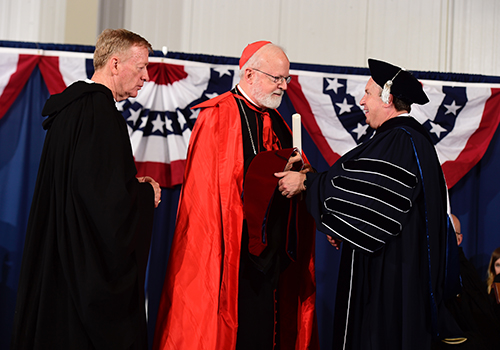 In the Thomas F. Sullivan Arena, the college bestowed a Doctorate of Divinity on Cardinal O'Malley.
In addition, Saint Anselm conferred a Doctor of Business on Richard L. Bready '65, Doctor of Humane Letters on Professor Emeritus John F. Romps, Jr., and Doctor of Humanities on Eileen Stuart-Shor '71.
Richard L. Bready '65 is one of Rhode Island's leading businessmen and philanthropists. Retired from Nortek Inc., under his leadership as chairman, president, and chief executive officer the company grew into a global leader in residential and commercial building products.
John F. Romps, Jr. is professor emeritus of Saint Anselm College where he served in the economics and business department for over 45 years.
Eileen Stuart-Shor '71 Ph.D., NP-BC, FAHA, FAAN, is a lecturer in the College of Nursing and Health Sciences at the University of Massachusetts Boston and a nurse practitioner at the Beth Israel Deaconess Medical Center. She recently completed her service as the chief nursing officer at Seed Global Health.
Earlier in the day in an emotional ceremony, graduates and criminal justice majors Samuel Buran and Tyler Guilmette were commissioned as Second Lieutenants into the United States Marine Corps. Buran and Guilmette will continue their training in the Officer Candidate School (OCS) this summer in Virginia. Andrew W. Shue and Jacob A. Poore were commissioned as Second Lieutenants in the United States Army on Friday, May 18, at the University of New Hampshire where they completed their ROTC.
Related News