Curtain call for Landis Magnuson
December 10, 2020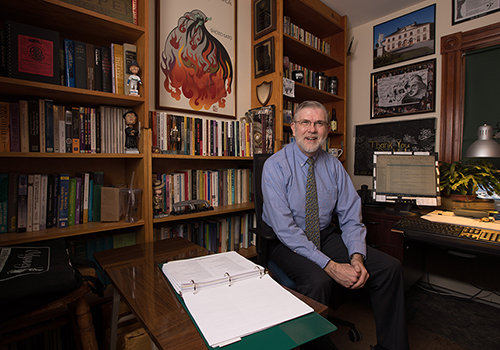 In September 1988, Landis Magnuson was a new faculty member at Saint Anselm College, a transplant from the Midwest who was not sure what to make of the New Englanders around him on this leafy college campus.
Early in the semester, he was introduced as a new professor and the new director of the Abbey Players during an orientation for incoming English majors. When the meeting ended, Magnuson was approached by another newcomer, freshman Susan Connelly.
"Landis and I were both freshmen together. He was the first one I met at St. A's," said Connelly '92. "I walked right up to him and said, 'this is who I am and this is what I want to do.'"
The exchange is something Magnuson remembers exactly the same way. "Susan came right up to me, introduced herself and declared her interest in the Abbey Players," he recalled.
Neither knew the encounter would lead to a 32-year friendship and a decision by Connelly to create a scholarship in her mentor's name as a way to recognize his influence on her life and the lives of thousands of Saint Anselm students.
The Professor Landis K. Magnuson Endowed Scholarship will be awarded annually to one or more academically qualified students in financial need, with preference to those who are active members of the Abbey Players theater group. Connelly made a gift of $100,000 to launch the scholarship.
For her, it is a way to give back to an individual who helped shape her life.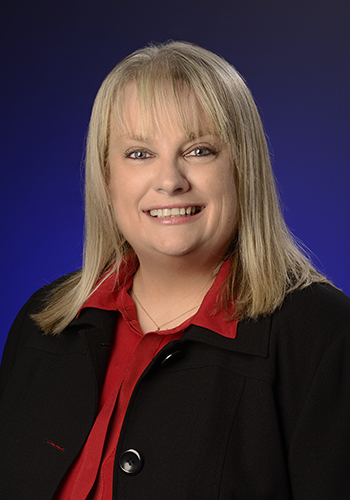 "St. A's formed the leader I am today," said Connelly, who is the chief communications and public affairs officer for Darden Restaurants, Inc., which includes brands such as the Olive Garden, LongHorn Steakhouse, The Capital Grille, and more. "(Magnuson) was the closest to a mentor and a coach for me than anyone on campus. The skills he pushed me to acquire – how to gain consensus, how to manage a difficult situation – he was willing to let students, and student leaders in particular, do the jobs that usually adults would do."
Magnuson points the credit back on Connelly – "There was a lot there to begin with," he said – but he acknowledged the opportunities the Abbey Players provides students, especially those who are elected to the board of directors, as Connelly was for three years.
In addition to serving on the board, Connelly was Director of Membership, followed by two years as Director of House, which included running the box office with handwritten records. She also directed a one-act play in 1991 and was a director of Shakespeare scenes in 1992. In her senior year, she equally shared directing credit for the fall play with Magnuson, and the Abbey membership voted her "Best All Around."
In his 32 years at the college, Magnuson had 16 students serve as officers for three years. "To be elected to the board at the end of one's freshman year and then be re-elected for two following years is recognition of solid leadership, hard work and steadfast dedication by student members of the Players," he said.
The Abbey Players have a venerable history dating back to 1949. Students not only take the stage in fall productions, spring musicals and other performances, but they also write shows, work backstage in many capacities, and help manage the business operations. While some Abbey alumni have gone on to professional theater careers on stage, film and television, the majority of others have used the experience to benefit their careers in business, politics, law and other professions.
Magnuson took the director's chair from the legendary Ted Comiskey, who led the group since its inception, co-founding the troupe with Fr. Thomas Flaherty, O.S.B. The booming projection of Magnuson's voice belies his unassuming persona, and yet he had a clear idea of how he wanted to shape the Abbey Players and what role he believed students should have in all levels of the shows.
"On the surface, we do theater," he said. "but because of the nature of the organization, we build leaders."
As a member of the English department, Magnuson specialized in theatre direction, acting for the stage and American theatre history, and his work with the Abbey Players connected him with the entire Saint Anselm community. His personal scholarship interests have centered on the late 19th- and early 20th-century American theatre, including such popular forms as repertoire theatre, vaudeville, and the Chautauqua movement.
Now a legend himself, Magnuson has passed the baton to new Abbey director Daniel Bird Tobin.
Dr. Joseph Favazza, president of Saint Anselm College, said that Magnuson left a big imprint on the Anselmian community. "Landis had a profound influence on so many students, so it is fitting that he is recognized in such an important and public way. His legacy was never in doubt, but thanks to Susan's generosity, his name will be associated with the Abbey Players for generations to come."
With the pandemic making in-person socializing problematic, Connelly and Senior Vice President and Chief Advancement Officer James Flanagan made the announcement to Magnuson on a Zoom call. True to his nature, he was shocked and overwhelmed.
"When we celebrate him, he's always surprised," said Connelly, who was recently elected to the Saint Anselm Board of Trustees.
An active philanthropist, Connelly has given to Saint Anselm since her graduation in 1992. The Professor Landis K. Magnuson Endowed Scholarship was something she wanted to do when she heard her friend and mentor was retiring.
"The foundation (the Abbey Players) gave me, I've always recognized it, appreciated it and I want to enable it for another generation of kids," she said. "This scholarship is a small way that allows it to continue."
Former Abbey Players and all alumni and friends are welcome to contribute to the Professor Landis K. Magnuson Endowed Scholarship. Please contact Senior Vice President and Chief Advancement Officer Jim Flanagan at jflanagan@anselm.edu.
Related News