Dining Shares Classic Whoopie Pie Recipe
April 22, 2020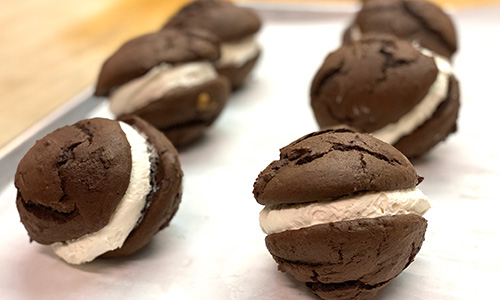 Whoopie pies may be the king of desserts on the Saint Anselm campus. And we know you've been missing these round chocolate cakes with a luscious fluffy filling that have been a staple at Davison Hall on Wednesdays. 
Now, thanks to the dining services staff, you can make these delicious treats right in your own kitchen. 
Rosemary Stackpole, the director of dining services, loved the idea of helping students stay connected to the Hilltop by giving them the opportunity to make these legendary whoopie pies at home. She and her staff worked to adapt the large-scale recipe into a simpler one that will yield a half-dozen. 
The ingredients are common ones that are used to make cakes or cookies and you probably already have them in your cupboards. The whole process takes less than 90 minutes and most of that involves letting the cakes cool before adding the fluffy filling. 
Alyshia Lam, one of the bakers at Davison, volunteered to take you step-by-step through the process in this how-to video that you can watch below. We also created a recipe card for you to download. 
So put on your apron and get ready to make the signature Saint Anselm whoopie pies any day of the week!
Watch How to Make Saint Anselm Whoopie Pies