Diversity Dialogue: Students Talk Literature and Race
February 26, 2018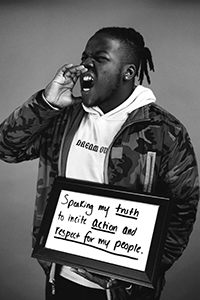 Members of the college community participated in an in-depth discussion on race through a three-part Diversity Dialogue series framed by best selling novel, The Hate U Give, by Angie Thomas. Part of Saint Anselm's month-long MLK Jr. programming, these events were designed to give students the opportunity to engage, commit, and speak out against racism.
Led by Professor Michael New, Ph.D. and senior Michael Akinlosotu, the series (which will conclude on February 27) began with a discussion on the novel followed by an analysis of poems by 20th-century African American poets. Presentations from New and Akinlosotu and an open mic for students to present their own written work will also be featured.
"For students, I hope the series will expose them to different cultures than their own, erase prejudices, and make people aware of the faults within our government systems," says Akinlosotu. The computer science major also hopes that the series will generally spread awareness and provide a forum for tough discussions.
The novel, The Hate U Give, which was suggested by Terri Greene Henning, Ph.D., of the education department, was ultimately chosen for its strong and realistic portrayal of the effects of racial violence in law enforcement on surrounding communities. New says, "In my opinion, the novel takes on this divisive issue in a way that reveals the human stories that we hardly ever see in the news when shootings occur."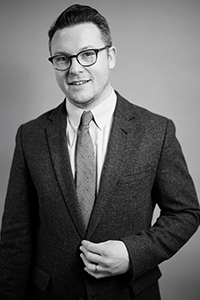 The series discussions are designed to connect those issues with participants' personal histories and lives. "We wanted to have a sustained conversation in order to give us time to appreciate the novel and begin to connect its message to our lives and experiences," says New.
The second event in the series expanded upon these ideas, this time through analysis of several works from Black poets. New and Akinlosotu first presented a powerful visual poem with only the message "Don't Shoot" underneath images of a gun and camera. This sparked an interactive discussion on this concept within the Black Lives Matter movement, as well as the media's role in portraying these deaths. The student audience was then broken into groups, each of which was given a poem to read and discuss amongst themselves. Students expressed their own life experiences to comment on and interpret the poetry, leading to an open, honest, and thoughtful discussion on systematic racism and police brutality in the United States.
New believes an essential aspect of diversity education and discussion is to branch outside of one's comfort zone, noting that many students accomplish this outside of the classroom through service trips and volunteering or during semesters abroad: "It does take a bit of courage to put yourself out there, but the rewards are nearly always worth the risks. We may fear that confronting our differences will isolate or disorient us—and that may happen, too—but I find that such confrontations more often spark discovery of our connectedness. Tracing the limits of our own knowledge and experience is humbling, but recognizing those limitations also introduces us to a vastly richer sense of what it means to be human."
During the college's month-long celebration of Martin Luther King Jr., Akinlosotu presented a reflection during the MLK Jr. Celebratory Dinner, during which he discussed "racism hidden behind smiles and kind gestures." He is also included in his brother Emmanuel Akinlosotu's '19 photography exhibition for Sincerely St. A's, a photo campaign on display in the Geisel Library, made possible through an award from the Diversity and Inclusion Innovation Fund. Akinlosotu has been a defensive tackle on the football team since freshman year, and volunteers at the Sununu Youth Services Center in Manchester, N.H., working with juveniles.  
The program is sponsored by the Multicultural Center and the English department, and is supported by the Chief Diversity Officer's Diversity and Inclusion Innovation Fund.
Saint Anselm students, faculty, and staff are invited to attend the last event of the series on Tuesday, February 27 at 4 p.m.
Related Links