En Iwamura Exhibition on Display
October 16, 2019
Saint Anselm College is excited to announce a new addition: the work of sculptor En Iwamura. The exhibition, Dear My Heroes, opened on October 8 in the Roger and Francine Jean Student Center Complex and features Iwamura's ceramic sculptures alongside the debut-viewing of a time-lapse video of Iwamura and Saint Anselm students working on 1,500 pounds of clay. The exhibition will be available in the student center through the end of the academic school year.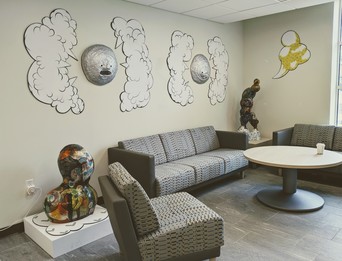 A Japanese artist of growing international fame, Iwamura's latest exhibition at Saint Anselm features pop-culture saturated ceramic sculptures. En Iwamura first visited Saint Anselm in 2016, serving as a Living Learning Commons (LLC) Visiting Artist. During that trip, he worked with Saint Anselm students to create a clay wall which appears in the time-lapse video entitled "Appearing Clay Wall."
Professor Kimberly Kersey Asbury explains the significance of En Iwamura's work, "It is incredibly fortunate that we would have had En Iwamura visit our college just as he was graduating from his MFA program at Clemson University. This collection is the culmination of his work as a graduate student. The work also reflects on the pop icons that inspired him as a young person." She also notes, "Both the LLC Galleries, Living Learning Commons, our collaborative Visiting Artist Series there and now too the student center itself all represent new beginnings as well as En's work itself, now regarded as his 'early work' in a career that has taken off." 
Born in Kyoto, Japan in 1988 En Iwamura was under the influence of parents who were both painters, growing up in an artistic environment. After attaining his BFA in craft at the Kanazawa collage of Art and Craft, he began to be interested in the international art world.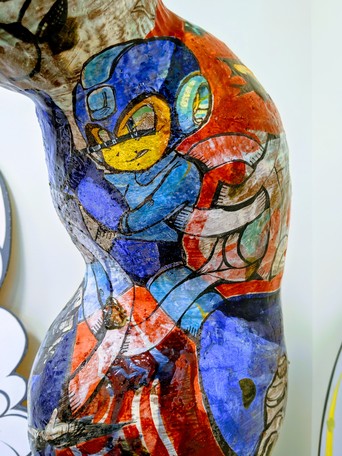 En Iwamura utilizes ceramic because he believes it has the potential to cross different cultures, people, and countries. He also references the Japanese philosophy of Ma in his work; it implies the meanings of distance, movement, space, relationship, and more. "People constantly read and measure different Ma between themselves, and finding the proper or comfortable Ma between people or places can provide a specific relationship at a given moment."
En Iwamura says his artwork uses, "cartoony/abstract drawings on cutout wooden props as an important part of my installation with ceramic pieces to create theatrical experimental installation." He continues, "I believe that continuing ceramic art in the international level makes me able to communicate with someone new, finding something important and going somewhere far and away."
This project was made possible by the Department of Fine Arts, En Iwamura, Office of Residential Life, Conversatio, and Student Affairs.