Fine Arts Department exhibitions go virtual!
March 10, 2021
Over the last year, the creativity of students who take art courses shined at Saint Anselm College. Working with their professors in the Fine Arts Department, students created projects and installed exhibitions in the Dana Center Alcove Galleries, the Comiskey Art Center and Geisel Library. These spaces also hosted a show by visiting artist/educator Earl Schofield.
Unfortunately, because of visitor restrictions in place for the COVID-19 pandemic, many members of the Saint Anselm community, and the public at large, have not been able to see and celebrate these presentations of art in-person. The college is thrilled to be able to showcase these art exhibits via new virtual galleries—an effort led by Associate Professor of Art and Design Kimberly Kersey-Asbury. Be sure to check out these links to see photos and video snippets of the impressive artwork and exhibition programming at Saint Anselm College this year.
Illustration Class Exhibition, Comiskey Art Gallery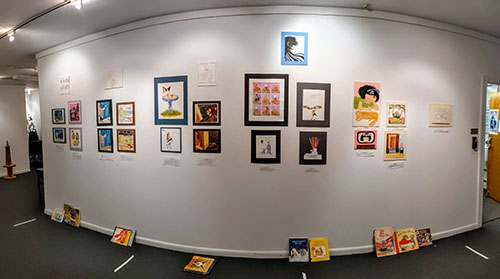 This exhibition highlights a special unit in this year's Illustration course, which analyzed favorite children's book illustrators' works and challenged students to create their own responses to the work. Students identified the original art media used and then, through research, trial and error experimentation with materials, recreate one of the illustrations in their chosen book. Their next assignment asked students to imagine a "missing page" from the text, using the artist's style, technique and storyline to create their own illustration. This multi-week project culminated in an exhibition hung by the class and accompanied by a critique with guest artist and Director of Chapel Art Center, Fr. Iain MacLellan, O.S.B., a gifted painter himself. Hear video snippets of the critique in the online exhibition as well.
See Illustration's Virtual Exhibition
'Hands Together' Diversity & Inclusion Exhibition, Geisel Library Foyer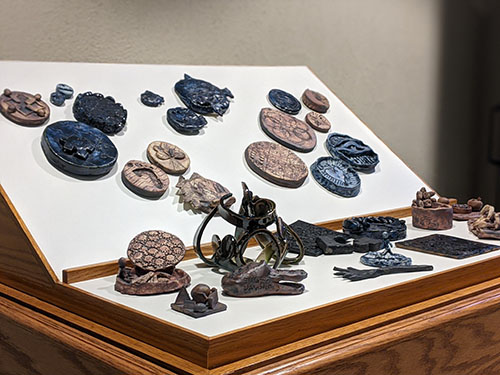 This exhibit is reflective of a year-long collaborative effort between the Fine Arts Department, Geisel Library as well as the Multicultural Student Coalition, inspired and made possible by a Diversity & Inclusion Innovation Fund Award. Students, with or without art experience, were invited to submit works to this open-call exhibition, entitled "Hands Together." Individually and in the "Clay Workshop on Diversity" held in the Living Learning Commons (LLC), participants reflected on the themes of diversity and inclusion. The idea of belonging, themes of growth and the "circle of life" were prompts used to produce these creative visuals. Participating classes included Conversatio, Ceramics I, and Digital Arts & Imaging I. The exhibition features hand-built ceramics, drawing, and digital works. "Hands Together" is currently on view on the first floor of the Geisel Library and will remain on view throughout the spring semester.
See "Hand's Together" Virtual Exhibition
Senior Thesis Exhibitions, Dana Center Alcove Galleries
Senior Fine Arts majors, Kristen Campbell, Dawson Ellis, and Anthony Floramo exhibited their final Senior Thesis Exhibition in the Dana Center Alcove Galleries this past fall and their projects will be available to view virtually through the rest of the year. From traditional illustration to a combination of digital art and graphic design, these students pushed the envelope of their genres.
"Adam & Eve," a senior thesis exhibition by Kristen Campbell ('21 fine arts - studio arts), utilizes hand-cut collage and illustration media as a primary mode of construction of her illustrations during a year-long exploration of these biblical characters. Along with this gallery presentation, Campbell created a digital book to accompany her work.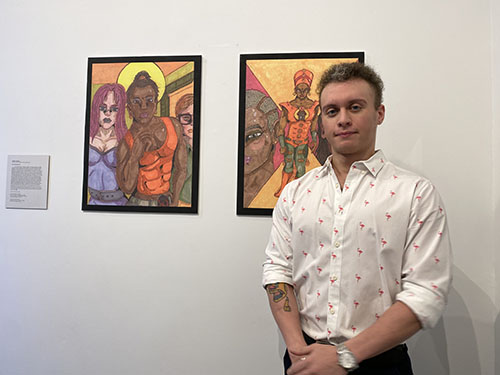 "Believed Words" by Dawson Ellis ('21 fine arts/communication double-major) is an exhibition of graphically illustrated interpretive posters depicting famous cult leaders. Their own words are layered into the imagery, causing the viewers to reflect on their societal impact. "I want to raise awareness about cults but, more importantly, I want to challenge people to question their beliefs and where those beliefs come from."
"Gold Experience: Going Beyond Gender in Fashion" is the title of Anthony Floramo's ('21 fine arts - studio arts) thesis exhibition. In Floramo's series, he investigates "finding the line between performance and the truth" as he reflects upon gender stereotypes in fashion and presentation of self. This work is a culmination of years spent filling sketchbooks with "fan art" and experimentations with an unusual array of drawing media. In this series, he uses his friends and self, their sometimes real and sometimes imagined clothing, as inspiration to depart from fan art and embark on the development of his own personal style.
See Senior Thesis Virtual Exhibition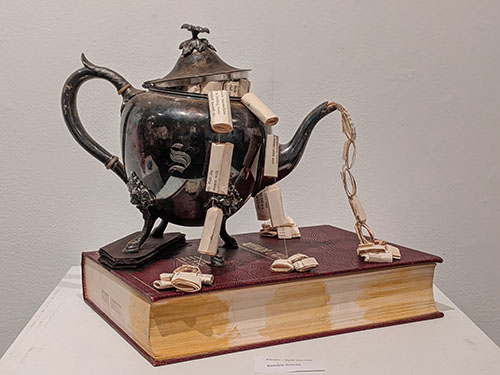 2D/3D Mixed Media Student Exhibition, Comiskey Art Gallery
In this end-of-semester exhibition, the idea of what constitutes a "book" is flipped on its head as students alter and interpret its definition, giving way to sculptural artist books. Mixed media students combine seemingly disparate materials—even found objects and furniture—and printmaking to create new forms, both whimsical and provocative.
See Mixed Media Virtual Exhibition
Visiting Artist Earl Schofield's Exhibition, "EAST/WEST: Encaustic & Watercolor Paintings," Dana Center Alcove Galleries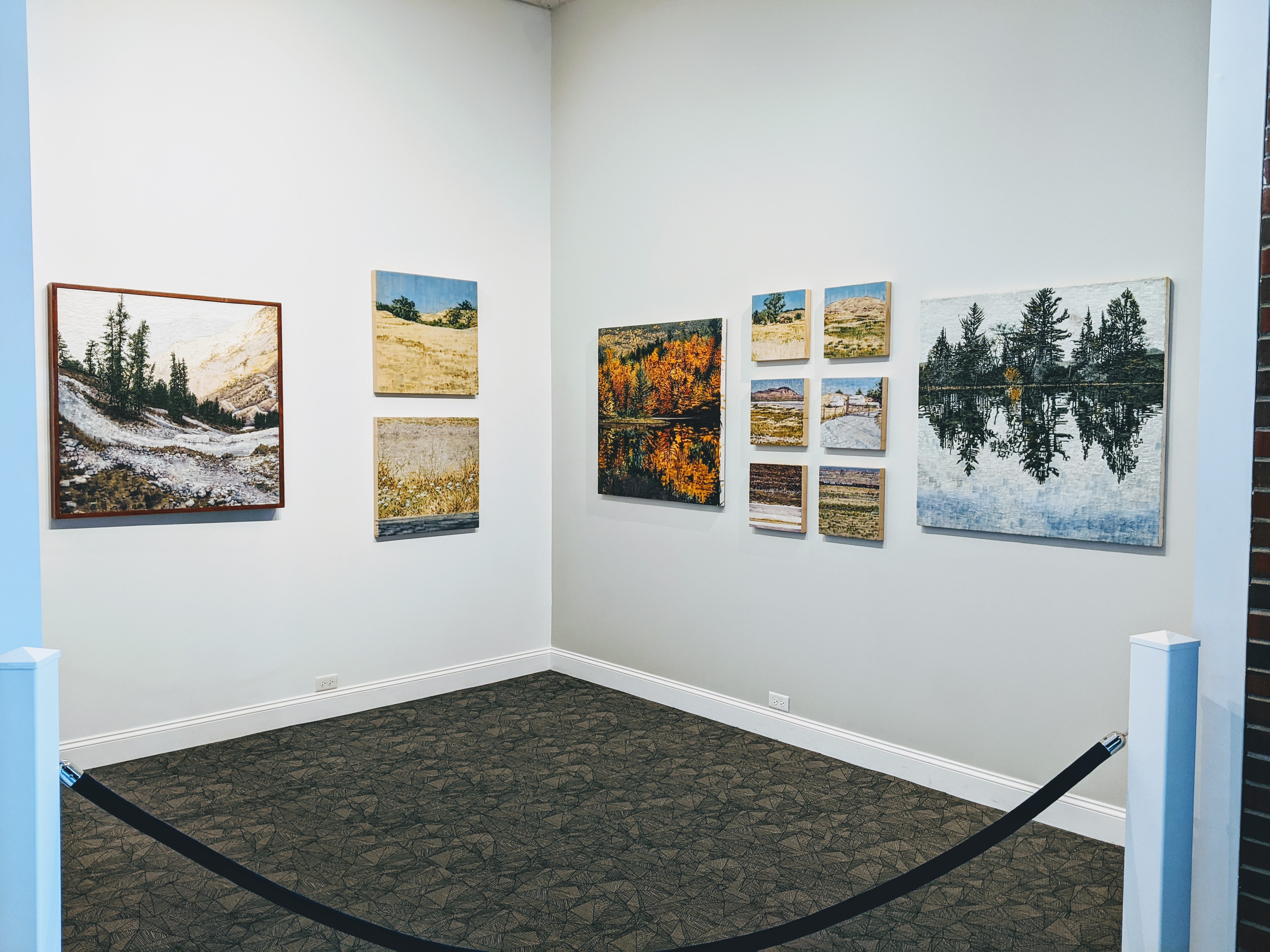 In addition to student artwork, the paintings of Earl Schofield, a New Hampshire artist and educator at the Dublin School were featured in the Dana Center Alcove Galleries this past fall and spring. You can view his paintings with a virtual tour at this link. The video recording of Schofield was created for our Saint Anselm College students as an artist talk to accompany the exhibition, giving us insights into his life as an artist and the works on view.  
Related Links