Fine Arts Professor Completes Fulbright Professorship in the Netherlands
December 8, 2017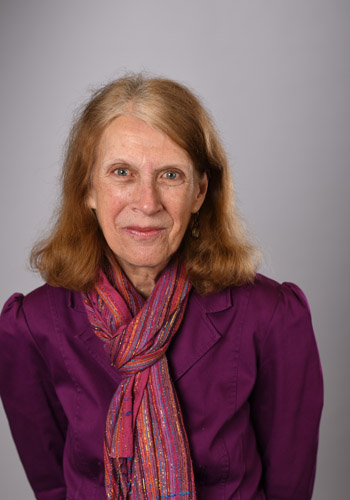 Fine Arts professor Katherine Hoffman, Ph.D., has spent the last few months teaching graduate and undergraduate courses in the American Studies department at Radboud University in Nijmegen, the Netherlands, through a Fulbright Professorship.
She was chosen by the board of the Fulbright Terra Foundation for the Award in the History of American Art to the Netherlands for her project entitled: "Exploring Transnational Modernist Connections: Alfred Stieglitz and Painting/Photography in the Netherlands."
At Radboud, Professor Hoffman serves as a lecturer within the American Studies department, teaching one undergraduate course and co-teaching one graduate level course exploring the history of film.
An expert on photographer Alfred Stieglitz, Hoffman gave an October 16 lecture on unknown installation photographs from his famous 291 art gallery, located at 291 Fifth Avenue in New York City from 1905 to 1917. The talk was inspired by her books, "Stieglitz: A Beginning Light," and "Alfred Stieglitz: A Legacy of Light," the latter publication about the photographer's life and career from 1915 to his death in 1946. Hoffman discussed Stieglitz's American work, issues of identity, and the rise of Modernism in America, underscoring the scope and magnitude of her Fulbright project.
In preparation for the semester abroad, Hoffman spent some time last summer in Paris, France, utilizing the Terra Foundation's Paris Center and Library, which is a part of the Terra Foundation for American Art and the only research library devoted exclusively to American art. Additionally, Paris Center staff collaborate closely with universities and museums throughout Europe to develop academic programs that encourage the exchange of ideas about American art, including research and teaching fellowships, partner-hosted lectures and symposia.
The idea that art has the potential to both distinguish cultures and unite them is at the core of the Terra Foundation's mission, a belief that Professor Hoffman echoes, explaining, "I really value these professorships and am honored I was selected. It's important to develop cultural diplomacy."
Hoffman previously served as a Fulbright Distinguished Chair at the Karl Franzens University in Graz, Austria. She was selected for the Fulbright Specialist roster by the U.S. Department of State and during the summer of 2014, served as a Fulbright Specialist at Ruhr University in Bochum, Germany.
One of the more meaningful aspects of these Fulbright experiences, she says, is "making connections and helping to bring those back to the college for other faculty and student opportunities."
Hoffman sits on Saint Anselm College's Fulbright Campus Committee, where she uses her extensive experience with the program to helps students fine tune ideas for their own Fulbright applications.
Professor Hoffman is currently working on another book, "Fighting for the Light: Female Photograph Pioneers in the Alfred Stieglitz Circle and Collection," slated for publication by Yale University Press.