Five to be inducted into Saint Anselm Athletics Hall of Fame
January 3, 2022
Saint Anselm College is pleased to reveal its five-member Athletics Hall of Fame Class of 2022 on Tuesday. The group of former student-athletes will be honored at an induction ceremony and banquet scheduled for Saturday, Feb. 19, 2022. Additional information regarding the event will be released in the coming weeks.
Established in 1980, the Saint Anselm College Athletics Hall of Fame recognizes student-athletes, coaches and athletics administrators that have brought recognition to themselves and the College through their efforts on and off the playing surface. The Hall of Fame was reinstated in 2017 when the class of 2007 was finally inducted along with two additional candidates.
"With last year's event canceled due to the global pandemic, we are excited to welcome these five alumni into the Saint Anselm Athletics Hall of Fame," said Director of Athletics Daron Montgomery. "This group is more than worthy of the honor and privilege that comes with induction and we look forward to recognizing their legacies at one of our signature athletics events in February."
---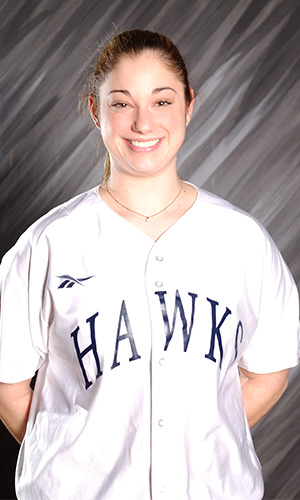 Andrea Messina, a 2003 graduate and a four-year member of the Saint Anselm softball team, remains the program's all-time leader in career earned-run average (1.22) and ranks second all-time with 105 career appearances and 627.1 innings pitched. She racked up 666 career strikeouts, the second-most in team history. Her eight career saves is also tied for the most in Saint Anselm history.
Messina helped Saint Anselm to 109 victories in four years as a part of one of the winningest classes in program history, winning 60 of those games for Saint Anselm in the circle. She began her career with a share of Northeast-10 Conference Rookie of the Year honors in 2000, picking up the first of her three NE10 All-Conference accolades that year as well.
She was a key part of the 2002 team that made the first NCAA postseason appearance in the history of Saint Anselm softball. In the team's debut game, Messina conceded just five hits and struck out six batters to push the Hawks past second-seeded C.W. Post on May 9 – she finished the NCAA postseason with three appearances, striking out 13 batters in 14 innings and allowing just one earned run.
Posting a 1.09 earned-run average as a senior in 2003, Messina captured NFCA Second Team All-Region merits after the season. As a junior, she earned ECAC Division II North All-Star Team placement after limiting batters to a .190 average, the second-finest mark in team history. To this day, Messina is tied for seventh in NE10 history in career strikeouts and 12th in career earned-run average.
---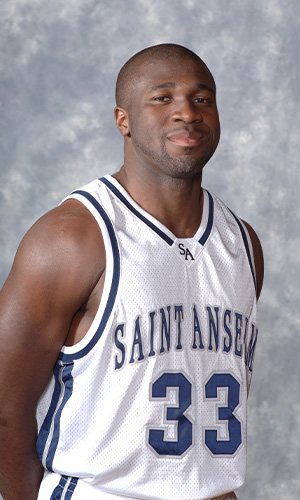 Darlington Okerulu, the all-time leader in rebounds for the Saint Anselm men's basketball team, graduated in 2006. Racking up 953 career rebounds across 119 career games for Saint Anselm, Okerulu was also a proficient scorer, finishing with 1,343 career points in a four-year career on the Hilltop. He presently ranks fourth all time in games played (119) and 10th in rebounds per game (8.0).
He put together an impressive campaign as a freshman, averaging 13.7 points per game while hauling in 8.6 caroms per contest. The first freshman to lead the team in rebounding since the 1977-78 campaign, Okerulu also posted 12 double-doubles and was his team's top rebounder on 17 occasions – he scored in double figures in 20 of his last 22 games on the season.
His strong play helped the Hawks to back-to-back NE10 Championships in 2005 and 2006, the first time that Saint Anselm had accomplished that feat in consecutive seasons in a decade (1995, 1996). Okerulu finished his career with 31 career double-doubles and 71 games with at least 10 points for Saint Anselm, logging a .481 career field goal percentage for Saint Anselm.
---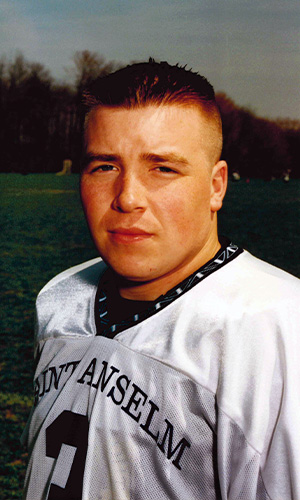 Brian O'Leary was one of the first stars for the fledgling Saint Anselm men's lacrosse team from 1998 through his graduation in 2001. Joining a team that had won just seven games across the first four seasons of its existence, O'Leary and the Hawks racked up 29 wins during his time that saw him establish the team's assists record (152) that remains unthreatened to this day.
Racking up 210 career points of offense for Saint Anselm, he registered 39 assists in 1998 and followed with back-to-back campaigns of 42 and 44 helpers, respectively – those figures remain the top three single-season assist records to date. The two-time NE10 Second Team All-Conference selection was pivotal in his team's first NE10 tournament appearance in 1999.
Winner of the NCAA Division II statistical championship in assists per game (3.38) in 2000, O'Leary holds the single-game records in points (12 vs. American Int'l, 04/13/98) and assists (9 vs. American Int'l, 04/13/98). He currently owns the NE10 record for assists in a career.
---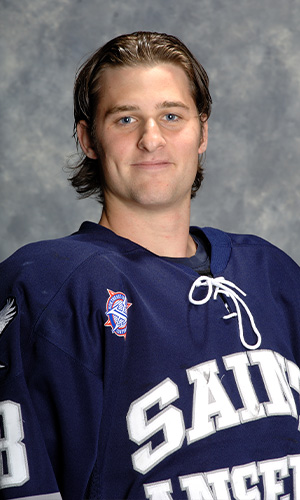 Brett Smith, a 2007 graduate, remains the first (and only) four-time First Team All-Conference selection in Saint Anselm men's ice hockey history. Competing as a defenseman, Smith earned back-to-back Defensive Player of the Year honors from the NE10 as the Hawks won four Regular Season Championships and two postseason titles in his tenure.
Bursting onto the scene in 2003, Smith captured the NE10 Rookie of the Year award and was a finalist for the prestigious Joe Concannon Hockey Award in 2006 after leading all ECAC East student-athletes with 21 power-play points (6-15=21). In total, Smith helped the Hawks to a 68-35-6 record (.651) which stands as the winningest four-year stretch in team history.
A three-time ECAC East All-League selection, Smith earned First Team honors twice (2005-06, 2006-07). He was a key part of the program's longest winning streak, a 10-game stretch from Nov. 27, 2004 through Jan. 14, 2005, and set what was the program record with 108 career games played. One of the most recent joiners of the 100 career point club, he finished with 35 goals and 69 points (35-69=104).
---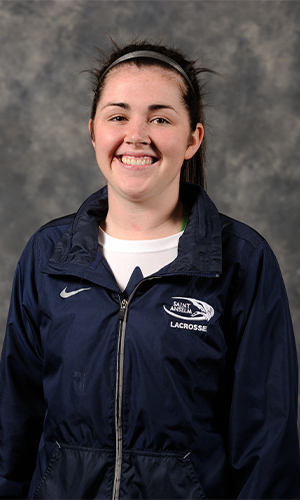 Meghan Smith was a standout member of the Hawks women's lacrosse team from 2009 through 2012 who averaged 4.36 points per game across 56 career games, the team record to this day. Potting 203 goals with 41 assists for 244 career points (203-41=244) to rank second all-time, Smith is the far-and-away team leader in draw controls with 372 (6.64/game) during her tenure on the Hilltop.
As a senior, Smith scored a team-record 67 goals with 12 assists for 79 points (67-12=79) and set the single-season team record for goal scoring on the way to Intercollegiate Women's Lacrosse Coaches' Association North All-Region honors and a First-Team All-Conference selection by the NE10. She also picked up the second of her two ECAC Division II All-Star Team selections in her final campaign.
Just one season prior, Smith hauled in a single-season record 130 draw controls to give her 9.29 per game, the second-most in NCAA Division II single-season history. She holds the single-game team records in goals scored (9, at Southern Conn. St., 04/23/11) and matched the record for draw controls in a single game (17, at Franklin Pierce, 04/20/11).
Owning the aforementioned record in career points per game, Smith's 3.62 goals per game is first in team history. At the time of her graduation, she was the record-holder in career free position goals (52) as well. She currently serves her alma mater as its Head Women's Lacrosse Coach and is in the midst of her seventh year at the helm.
 
---
This news story was provided by the Office of Athletics Communications. View the original story on the Saint Anselm Athletics website
Related Links