Giving Back During the Holidays
December 21, 2022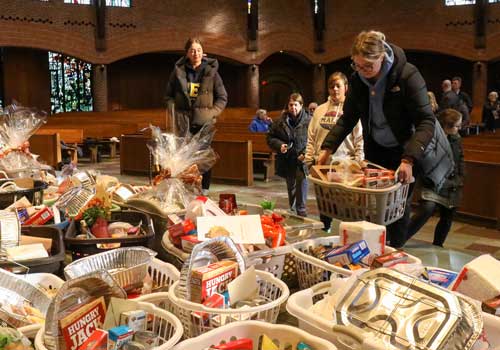 Service is at the heart of Saint Anselm College. It is a central part of the student, faculty, and staff experience – from community-engaged learning as a part of the curriculum to days of service built into the new student orientation. The holiday season is no exception through three annual traditions – Thanksgiving baskets, the children's holiday fair, and the Christmas giving tree.
Thanksgiving Baskets
For the 20th year, the Saint Anselm College community filled 154 baskets with entire Thanksgiving dinners for families experiencing food insecurity in the local community, far exceeding their goal of 120 baskets. Organized by Campus Ministry, this annual tradition partners with Catholic Charities New Hampshire, St. Raphael Food Pantry, and St. Augustine Pre-School. Students, faculty, and staff not only donate the baskets, but load the trucks, and deliver the baskets.
Children's Holiday Fair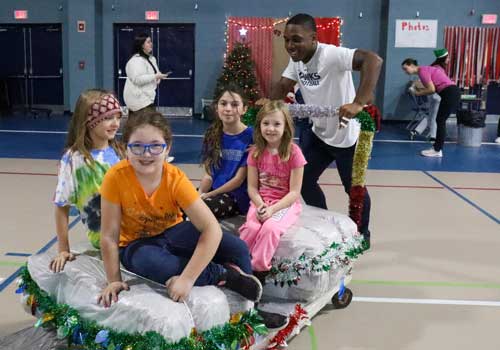 On the first Saturday in December, 90 families (making up 327 people) from the Manchester community arrived on campus to participate in the 31st Annual Children's Holiday Fair organized by the Meelia Center for Community Engagement.
300 students participated either as volunteers through the 33 student groups who volunteered to set up a station, or as individual volunteers. Together they offered 37 activities including craft tables and sleigh rides.
Christmas Giving Tree
The Anselmian community also supports the local community during the holidays through Campus Ministry's Christmas Giving Tree. This year, Anselmians purchased 137 toys and gift cards for children and teens in foster care through Ascentria Care Alliance.
"Speaking with the social worker we learned that many of the children are told these gifts are from strangers who are praying for them… and for many it brings tears of joy, reminding them that they are not along in the world during these challenging days," wrote Joycelin Raho, campus minister.
A few years ago, Saint Anselm was selected as the college with the most Christmas spirit and it would be easy to argue the same for 2022. Although, the campus glitters throughout the month of December with Christmas traditions including gingerbread and festive lights and trees, it is clear that the true spirit of the season has not been forgotten by Anselmians who continue to give back in a myriad of ways.
As President Favazza and Abbot Mark shared in their Christmas message to the community, "In an age marked by strife and division, let us be guided by the lessons of Christ and the peace and joy offered us through His birth. As Anselmians, let us deeply embrace the true spirit of the season."