Gullikson Awarded New Hampshire Campus Compact President's Leadership Award
June 11, 2020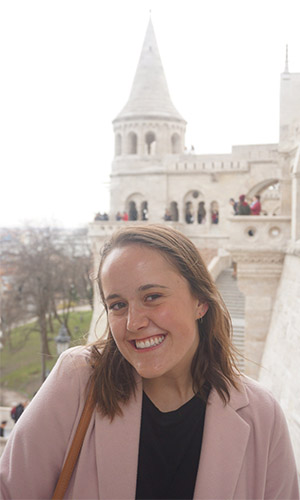 Recent graduate Payton Gullikson, a communication major, was awarded Campus Compact for New Hampshire's President's Leadership Award for 2020 for her outstanding contributions to community service on campus. The award is for a student or student organization that has made service an integral part of their college experience as evidenced through their contribution to the community.
Gullikson has been a community engagement leader since she her freshman year at Saint Anselm College when she began her work with the Meelia Center for Community Engagement as an office assistant.
During her sophomore year Gullikson was asked to help lead Meelia's Service Events Team. In her final semester, Gullikson had become an integral part of Meelia's student management team. After Saint Anselm traditionally ran a wiffleball fundraiser for an international need, Gullikson and her coordinator advocated to switch to a Dance-a-thon fundraiser. Through the Dance-a-thon, the Meelia Center donated over $4,000 to a team of young environmental activists in Puerto Rico.
During the spring semester when the COVID-19 crisis had sent Gullikson home to Minnesota, she worked with her local school district to provide child care to children in the district whose parents were essential workers. This was a part of the Governor of Minnesota's efforts to help bolster the economy and ensure that essential businesses were able to remain fully staffed during the COVID-19 pandemic.
"Child care took place at the local elementary school which is great because the school is already a safe and comfortable place for the children," Gullikson said. "The children that I worked with were amazing – I left every day with a huge smile and lots of silly stories. I have learned so much about resilience and hope through this work. I am thankful for the opportunity to give back to my community during this crazy time."
Related Links