High School Students Explore Space in Access Academy
November 28, 2022
During Fall 2022, a group of high school students from Manchester have explored the world of radio astronomy through a class offered by Access Academy. It is one of 10 courses offered through the program this semester.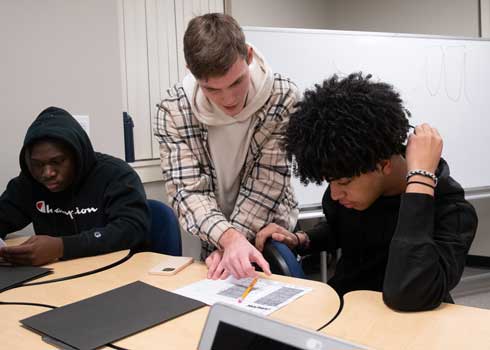 Every Monday and Tuesday at 4:30 p.m., high school students from around Manchester step off of buses and walk onto the Saint Anselm College campus.
After the busses arrive, the high schoolers gather in the Dana Center to meet their teachers and walk to their classrooms. This semester, 10 courses are being offered on Monday and Tuesdays and cover everything from ethics to music to college and career planning.
Radio astronomy is the study of objects in space through radio frequencies. Led by Rylee Bradshaw '25, an elementary education major, and Carl Zent '24, a physics major,  the students are learning about the scientific method through not just theory but also hands-on exercises including building 3-D models of pulsars. The final goal will be becoming certified to participate in the Pulsar Science Collaboratory where they can analyze radio data to search for new pulsars along with other students and educators around the world.
This is Zent's second semester teaching a class for Access Academy. Last semester he taught Radios for Jupiter where students were able to build a working telescope. He's planning to continue his career in physics in graduate school and then through teaching. Bradshaw is an elementary education major and has been involved with Access Academy her entire time on the Hilltop. This is her first time as a full-time instructor. She and Zent teach together with her focusing on student engagement and Zent on the subject matter. Professor Nicole Gugliucci provides overall support and mentorship for the two.
The students in the class come from schools throughout Manchester, range from freshmen to seniors, and have a variety of experiences and backgrounds. Some, like Ella, a sophomore at the Manchester School of Technology, signed up for the subject matter.
"I really like space," Ella explained. She saw the topic and thought, "this seems really cool, and I'll probably learn a lot about space, and I have."
Others just wanted to learn about a new topic and have enjoyed the approach to the class.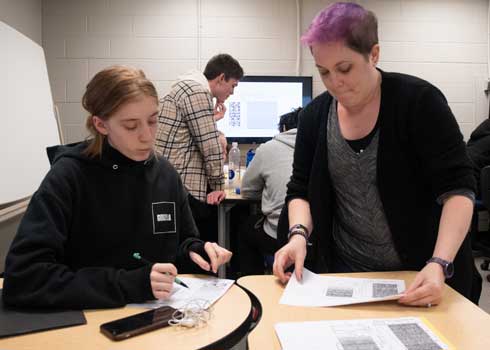 "The teachers make everything super fun, super engaging," shared Lauren, a senior at Memorial High School "We've been doing project-based learning. It's a lot easier to understand certain things."
"We have a lot of fun interacting. It's not very quiet," said AJ, a junior enrolled at the Virtual Learning Academy Charter School. "It's created very good connections. I like it."
Access Academy is an on-campus after-school educational experience that offers high schoolers courses taught by Saint Anselm College students supported by the college's faculty and staff. Students from the college are with them for each step of the process. From hanging out with the high schoolers as they wait for the bus, to eating dinner with them after classes end, the students play an active role in building community and serving as mentors. It is run by the Meelia Center for Community Engagement.
On Tues., Nov. 29, people can support Access Academy during Saint Anselm College's Giving Tuesday campaign by making a gift at www.anselm.edu/giving-tuesday