Hour of Code
December 7, 2017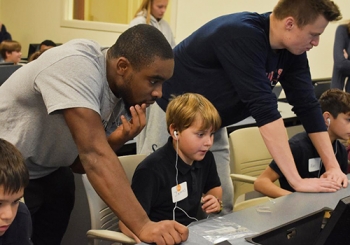 On December 5th, Saint Anselm College students worked with 25 New Hampshire elementary school children in the annual Hour of Code event produced by the Computer Science department.
As part of a CS115 Discrete Math assignment, the college students stood by with support as fourth graders from Saint Benedict's Academy in Manchester and St. Francis of Assisi School in Litchfield created a series of short strings of computer code. When the young students completed one coding challenge, they progressed to a higher challenge level of coding.
"The Hour of Code is about getting young children interested in science," says Carol Traynor, chair of the Computer Science department and associate professor at Saint Anselm College. Working with fellow Computer Science faculty member Rajesh Prasad, Traynor is in her fourth year of conducting the Hour of Code program.
"Tens of millions of students are participating in the global Hour of Code at some point this week," says Traynor "I think it's the biggest single, coordinated education event in the world." Traynor observes, "These students are becoming more and more comfortable with computers." She pointa out that one fourth-grader, James Sisco of Saint Benedict's Academy, created the equivalent of three hours of code in the allotted one hour.
One of Traynor and Prasad's students, Elizabeth Rizk '21, a computer science major from Swampscott, Mass., worked with a pair of girls from Saint Francis School. She notes that the two fourth graders "got very excited when they went up a level; it's a big accomplishment," and described the young students as [seeing] the exercise more as a computer game than something academic."
Melissa Piet, a fourth grade teacher from St. Benedict's Academy, has also noticed children becoming increasingly relaxed around computers. "Even a year ago, my students' interest in computers was more geared to how computers work, but now they're very intentional in writing code. Any time you give these students computer time, they're happy."
Traynor expresses pride in the Saint Anselm students, who she notes are from many segments of the campus community. "We have athletes, non-Math majors, non-Computer Science majors... they do well preparing for the Hour of Code by reviewing tutorials for the fourth graders."
Around the world, the Hour of Code includes millions of students in nearly 200 countries who write code for 60 minutes. At Saint Anselm College, a countdown clock projected on a screen reminded participants of the time remaining in their exercise.