Humanities Institute to Offer Virtual Course on Robert Frost to Alumni
March 31, 2020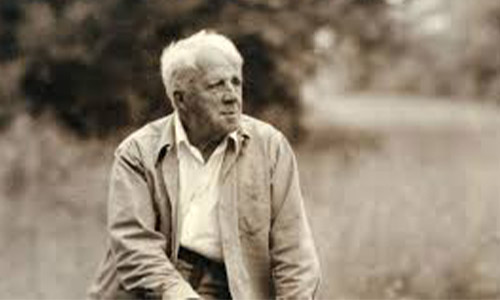 Starting the week of April 6, 2020, Saint Anselm College and its Gregory J. Grappone Humanities Institute are excited to announce the launch of an online course, "Frost's World and Words." This non-credit, free course is available to alumni and other members of the Saint Anselm College community.
Adapted from an online summer course developed by English Professor Gary Bouchard, Executive Director of the Humanities Institute, and David Hjelm, Information Technology's Instructional Media Technician, it takes an in depth look at the work of poet Robert Frost, and the homes and landscapes that are built into them. 
"In this peculiar time when we find ourselves in forced hibernation away from so many of the people and places we love," shares Professor Bouchard. "I wanted to do what I could to help lift you beyond your four walls into the world and imagination of one of New England and America's most beloved poets."
"We are excited to be able to offer this wonderful course to the community," shares Patrice Russell, Assistant Vice President, Alumni Relations and Advancement Programming. "We hope that Anselmians will enjoy learning more about Robert Frost while engaging in the conversations that make Saint Anselm's educational experience so special."
Robert Frost, one of America's preeminent poets, is a complex figure. His poetry is rooted in the New England landscape, and while most casual readers know his most famous poems, there are many that people are not aware of. 
During this four-week course, through video, lectures, and discussions, participants will travel the road less taken from his homes in Plymouth, Derry, and Franconia, N.H., to the poems they inspired. You can download the course description, syllabus, and schedule. 
There are two required texts: The Poetry of Robert Frost, ed. Edward Connery Lathem and Robert Frost, A Life by Jay Parini.
Professor Bouchard is founding Executive Director of the Gregory J. Grappone Humanities Institute at Saint Anselm College, where he has taught in the English Department for over three decades. During those years he also served as department chair and as the college's executive vice president. A specialist in the field of Renaissance poetry and Shakespeare, he is the author of two scholarly books, including a recent book about the little-known Catholic Saint, Robert Southwell published in 2019. Professor Bouchard is the consulting editor and a Catholic Press Association award-winning writer for Parable, the magazine of the Catholic Diocese of Manchester, N.H. He is the author of a new, popular book of meditations entitled Twenty Poems to Pray (Liturgical Press, 2019).
Related Links