Inauguration of 11th College President Joseph A. Favazza, Ph.D.
September 25, 2019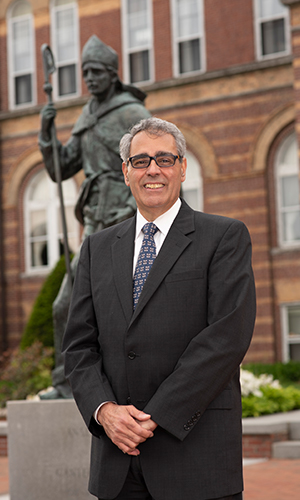 On Wednesday, October 16, Saint Anselm College will begin the inauguration of eleventh president Joseph A. Favazza, Ph.D., with a Mass of the Holy Spirit in the Abbey Church at 5 p.m celebrated by College Chancellor Abbot Mark Cooper, O.S.B. The installation ceremony will take place on Thursday, October 17 at 2:30 p.m., in the Thomas F. Sullivan Arena.
A leader in liberal arts higher education, Dr. Favazza has a longstanding record of success in achieving critical academic and institutional goals.
Delegates from around the country are invited to attend the inauguration, joining Saint Anselm College faculty members and Staff Council in an academic procession preceding the ceremony. Ann M. Catino, Esq., '82, chair of the Saint Anselm College Board of Trustees, will confer the office of the president upon Dr. Favazza.
Dr. Favazza comes to Saint Anselm College from Stonehill College in Easton, Mass., where he served as Provost and Vice President for Academic Affairs since 2012. He also served as Dean of General Education, overseeing a new core curriculum and interdisciplinary programs, and as Associate Vice President for Academic Affairs and Dean of the Faculty. He was a tenured Associate Professor of Religious Studies and Director of the "Search for Values" Program for Interdisciplinary Humanities at Rhodes College in Memphis, Tennessee, and has published and presented widely on a range of issues from ritual practices of forgiveness and reconciliation to academic leadership and pedagogy.
Dr. Favazza attended St. Meinrad College, a Benedictine college in Indiana, where he earned a B.A. in history. He later studied theology at St. Michael's College in Toronto before completing an M.A. and a Ph.D. in Religious Studies from the Catholic University of Louvain, Belgium. He holds a certificate from Harvard's Institute for Executive Management.
Dr. Favazza began his tenure as president of Saint Anselm College on July 15.
Related Links