College Hosts Annual Intercultural Holiday Dinner
December 8, 2017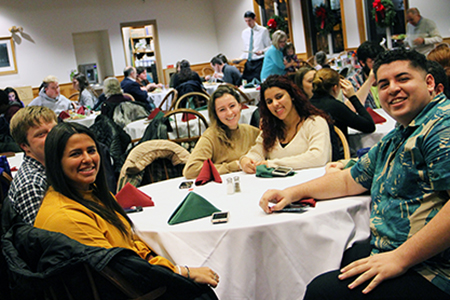 On Friday, December 1st, the Multicultural Center and Office of Campus Ministry sponsored the annual Intercultural Holiday Dinner. Each year, the dinner aptly named the "Celebration of Light" seeks to highlight and honor unique cultures represented on campus and their individual holiday traditions.
According to Multicultural Center Director Wayne Currie, the holiday dinner enables "the Anselmian community to learn that differences enrich our lives. The goal each year is for the campus community to share in these experiences and see how similar our cultures are even though they are expressed in different ways."
This year's celebration featured students from a variety of diverse cultures, including Indonesia, Northern Ireland, and French provinces of Canada. These student presenters shared their cultural traditions, explaining how their families celebrate the holidays.
The event is wildly popular throughout the campus community, with seats quickly filled to capacity as Anselmians seek to participate in the night of revelry and kinship.
"Each year we witness the joy on people's faces and how the faculty, staff, students, and monastery embrace each other for the common good," Currie says.
This year was Chief Diversity Officer Ande Diaz's first Celebration of Light at the college; enjoying the student participation and presentations, Dr. Diaz also appreciated the faculty who shared both Christian and Jewish holiday rituals.
"In a world where difference is often viewed as only challenging, the Intercultural Dinner and Celebration of Light was a moving testimony to the power of appreciating our differences while affirming our commonalities," says Diaz.
"To me, this is what college is about – expanding our worldview to understand multiple perspectives," she says.
Related Links