Junior Awarded First Ernie Thorne '34 Scholarship Fund for Racial Equality
September 2, 2021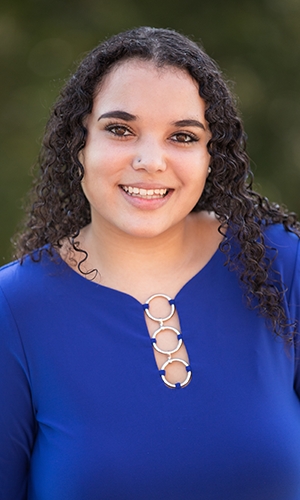 Junior Jasmine Marshall '23 has been selected as the first recipient of the Ernie Thorne '34 Scholarship for Racial Equity, an award honoring the legacy of the first Black graduate of Saint Anselm College.
"It is a great honor to be the first person awarded this scholarship," says Marshall. "This award will help me focus more on my studies, become more involved on campus, and work fewer hours."
Marshall is a politics major from Manchester, N.H. In addition to being a student, she works full-time at WholeFoods Market and part-time at No Labels Youth Congress to completely self-fund her education.
"This scholarship will make it easier for Jasmine to focus on her studies of politics and her engagement with politics beyond the classroom," shares Politics Professor Chris Galdieri. "That will directly benefit Jasmine as well as the campus at-large."  
Marshall is looking forward to spending more time on campus and becoming involved with campus groups like Green Team and Active Minds.
After she graduates, Marshall hopes to attend law school and become a criminal defense attorney. She is especially inspired by her great uncle, Supreme Court Justice Thurgood Marshall. Following in his footsteps, she desires to give back to others and help everyone find their voice.
The idea for the scholarship came from Denis Lynch '81 and Keith Woolley '82 in response to the deaths of George Floyd and Breonna Taylor.
Ernie Louis Thorne graduated from Saint Anselm College in 1934, becoming the first Black Anselmian alumnus. While on campus, Thorne was a member of Delta Sigma Mu, serving as the secretary and vice president, and worked as a reporter and contributing editor for "The Tower" newspaper. After graduation, Thorne continued to live and work in Manchester for the rest of his life where he was a well-known member of the community. 
He regularly attended alumni and sporting events at the College and served as the vice chairman of the Order of Golden Anselmians. Thorne passed away in 1995 at the age of 85, and his class ring is held in Saint Anselm's archives.
To support the Ernie Thorne Class of 1934 Scholarship Fund, visit the scholarship page.
Related Links