Kevin B. Harrington Student Ambassadors offer various Events and Opportunities
December 1, 2020
Students within the Kevin B. Harrington Student Ambassador Program have been offered many different events and opportunities throughout this fall semester, despite restrictions due to COVID-19.
The Kevin B Harrington Student Ambassador Program at the New Hampshire Institute of Politics  gives students the ability to assist in the planning and preparation of the events and programming that the NHIOP holds every semester. Different committees focused on civic engagement, communications, and community outreach allow the student ambassadors to make the most of their opportunities in the world of politics.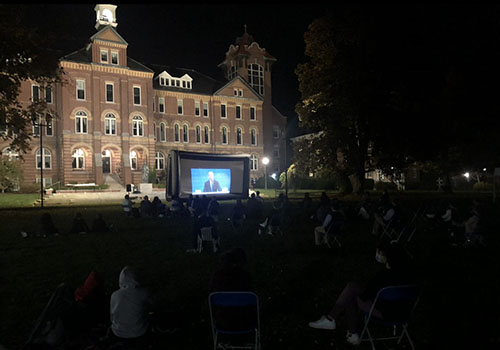 Many of the events held this past semester were focused around the election and around highly debated policies and agendas. These events included a discussion on Women's Suffrage, conversations with the New Hampshire Secretary of State's office, and a series on Voting in America. Along with the always popular debate and election night watch parties, there have been plenty of events that the ambassadors have been able to hold and support.
"Our guiding theme behind our programming this year has been providing students with opportunities for safe, physically-distanced social interaction while getting as many involved and informed about the political process as possible," says Ryan Heath '22, a marketing and economics double-major and one of the chairs of the Kevin B. Harrington Student Ambassador program. "Without the ability to invite any nationally-significant speakers from off campus due to the pandemic, we have turned inward and tried to bring our 'family' on campus closer together."
The student ambassadors introduced a variety of new opportunities: "Always Ambassador" was a new monthly newsletter that informed students of all the events the ambassadors were promoting, and the regular discussion series "Finding a Common Ground" gave students the opportunity to engage in healthy political discourse on both sides of controversial political topics. Despite the restrictions due to COVID-19, the student ambassadors have strived to bring a wealth of events and opportunities to the Hilltop.
"The program is great, and not just for politics majors," explains Neil Levesque, executive director of the New Hampshire Institute of Politics and overseer for the Kevin B Harrington Student Ambassador Program. "Whatever a student decides to do after graduation, having an understanding of the practical side of politics is invaluable."
Related News