Meelia Center Celebrates a Successful Year of Community Engagement
July 20, 2022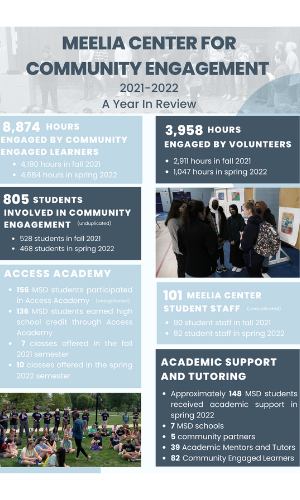 The Meelia Center for Community Engagement celebrated another successful year of service through community-engaged learning and many volunteer opportunities.
Nickie Lora '06, director of the Meelia Center, credits the student leaders and community partners with the success of the program. This year 101 students trained to be Meelia leaders, working with and offering support to their peers as staff members.
There were 805 students involved in Community Engagement who completed 8,874 hours of total service. Community-Engaged Learning is a service element tied to an academic course where students apply their course knowledge to a service project or site. "Sometimes it pushes them to question what it means to have a theory be lived out and a practical experience and it pushes them to reflect more deeply," explained Lora. Community-engaged learning is one of many ways that students can get involved with Meelia and cultivate a love for service.
Through the Access Academy program, there were 7 fall classes offered to students in the Manchester School District (MSD), and 10 classes were offered in the spring. One hundred and fifty-six MSD students participated in Access Academy and 136 students earned high school credit through unique courses, such as Radios for Jupiter and The Art of Debate. At the end of the semester, students share their work with family, teachers, and community members at a final showcase. At the recent spring semester showcase, 30 high school students presented their work to over 100 people.
The Meelia Center offers academic support to the community by working with seven MSD schools and five community partners. There were 39 academic mentors, as well as 38 community-engaged learners, who supported 148 MSD students in spring 2022. "They help with schoolwork at a very fundamental level, but they also build mentoring relationships with the students," explained Lora. Academic mentors work with students individually or in groups to provide support to the students, anything from helping with homework to talking about what happens at school.
With adjustments to Covid-19 protocols, the Meelia Center transitioned to more in-person service than the previous year. "While we were able to sustain significant virtual engagement, our in-person engagement made it easier for students to work with us and our community members," said Lora. The Meelia Center maintained virtual service opportunities while rekindling its pre-pandemic site connections.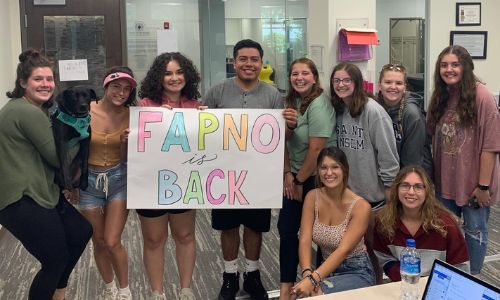 Foster and Adoptive Parents Night Out (FAPNO) was one of the popular service events that returned this year. The return of in-person service opportunities helped underclassmen who entered college during a pandemic to learn from upperclassmen who have relationships with those events. "Thinking about underclassmen who haven't had the same experience or know our culture of service, to have these events back is exciting," said Lora. 
Looking towards next year, the Meelia Center and the many students involved will continue to "engage with intention" and serve the local communities. Any students who are interested in discovering more of the amazing service opportunities can contact Nickie Lora or simply swing by the Meelia Center to say hello.
Related News