Meelia's Access Academy Wraps up Fall Semester Courses
November 30, 2021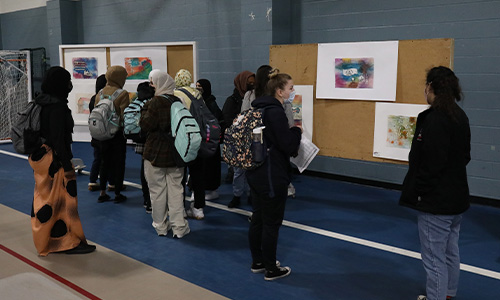 On Monday, Nov. 29, Manchester-area high school students gathered at Saint Anselm College to give their final presentations following their participation in the college's Access Academy's fall semester courses. A Meelia Center for Community Engagement program, Access Academy is an on-campus after-school educational experience that offers high schoolers courses taught by Saint Anselm College students supported by the college's faculty and staff. Through the fall semester presentations, participants showcased the knowledge they gained this semester.
"As the semester progresses, I love being able to watch students gain more confidence and realize their potential. This is the most rewarding part of the program," says Access Academy Management Team Member Ana Morrison '22, a biochemistry and molecular biology major, minoring in forensic science from Sharon, Mass.
Saint Anselm College students who lead classes for Access Academy believe that this program is more than just teaching Manchester participants new knowledge. "[This program] enacts real change and impacts the lives of Manchesterites every day," says instructor Sophie Menke '23. She believes the program provides an opportunity to motivate and change the lives of students who may not have the opportunity to do so on their own.
"The Access Academy Final Showcase is such an empowering experience for our Manchester School District students. Our students love coming to campus every week and are so dedicated to their learning and growth," says Meghan O'Brien, college access programs coordinator. "This presentation really allows students to reflect on these experiences while sharing them with family, friends, and classmates,"
The final showcase is equally rewarding for their peers who taught them and watched them reach their full potential.
Around 60 students participated in Access Academy this semester, which was especially exciting because it was the first semester back in person since the start of the COVID-19 pandemic. Participants receive high school credits for their work. This fall, seven classes were offered: Education, Empowerment and Advocacy, Eversource Career Exploration and Personal Skills, Introduction to Computer Technology, Exploring Culture Through the Arts, Personal Finance, College Admissions and Ethics in Our World.
The high school students who participate in Access are often underrepresented in higher education, whether this is due to low income, first generation students, diverse student populations or students who are not living at home.
On Tues., Nov. 30, people can support Access Academy during Saint Anselm College's Giving Tuesday campaign by making a gift at www.anselm.edu/giving-tuesday.
Related Links