Members of Alpha Lamba Delta Honor Society Recognized with Awards
July 24, 2020
Two rising juniors of the Saint Anselm Chapter of Alpha Lambda Delta (ALD), a national honor society that recognizes students' academic success during their first year at college or university, have been recognized with scholarships and awards.
Danielle Abdennour '22, an honors biochemistry and French major from North Andover, Mass., was awarded the James G. Stemler Study Abroad Scholarship.  She will spend six weeks next summer with a French family studying in Aix-en-Provence, France.  She looks forward to experiencing a beautiful and different culture, and becoming fluent in French.
On campus, Abdennour is co-chair of the Academic Enrichment Committee for her ALD chapter, a CRLS-trained peer tutor, and member of the Honors Program Council. This summer she is doing remote cancer research through the NH-INBRE program and taking three online courses.  She plans to attend medical school after college.
This award is named in honor of Dr. James G. Stemler, who served the National Council of Alpha Lambda Delta for more than 14 years and has been a vocal proponent and promoter of international study.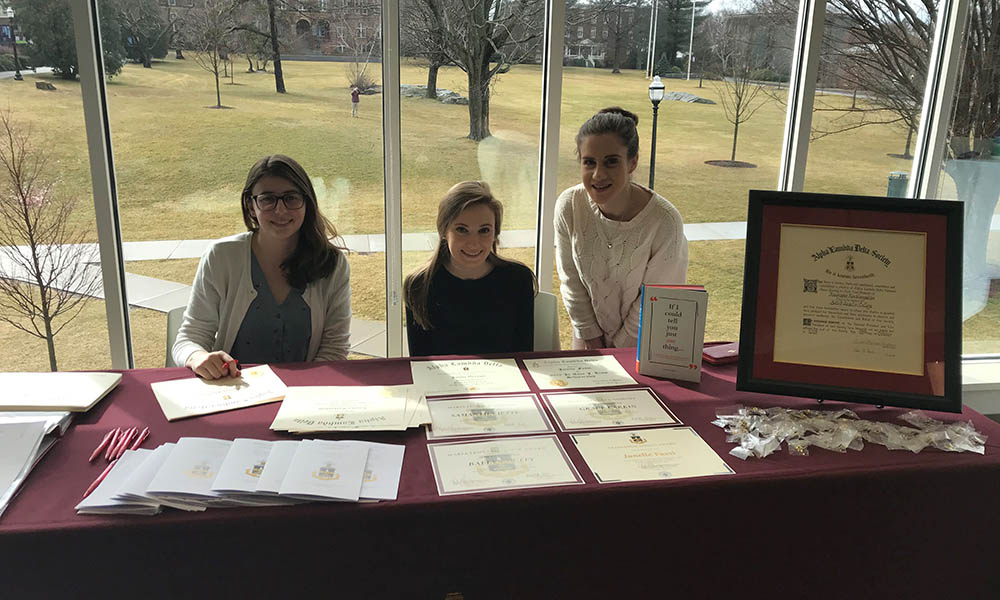 Allyson Vermette '22, an honors biology major from New Boston, N.H., was chosen to receive the Jo Anne J. Trow Scholarship for her academic record and dedication to campus and community service.
During the academic year Vermette serves as historian for the Saint Anselm chapter of Alpha Lambda Delta, in charge of maintaining records of chapter events. She compiled and submitted the chapter's first scrapbook detailing the 2019-2020 year which won the National ALD Order of the Torch competition. She is also a peer tutor for biology in the Academic Resource Center (ARC), volunteers at the Salvation Army Kids' Café as well as Bartlett Elementary School, and a member of the Alpha Phi Omega service fraternity.
Currently, Vermette works as an LNA at The Courville at Manchester in the rehabilitation center and in long-term care. She has continued to work there on the frontlines during the COVID-19 pandemic.  
As she enters her junior year at the Hilltop this fall, Vermette plans to apply to graduate school to earn a master's degree in physician assistant studies and specialize in pediatrics or oncology.  She believes that her experience dealing with surgery and treatment for thyroid cancer her freshman and sophomore years along with the opportunities and experiences at Saint Anselm will enable her to provide empathetic care and support to her patients.
The Jo Anne J. Trow Scholarship is awarded to students nationwide who maintain an excellent academic record and participate in ALD activities as well as campus and community service activities.
Both Abdennour and Vermette were nominated for these awards by Saint Anselm College Associate Dean Karlea Marie Joiner. This is the third year in a row that the Saint Anselm Chapter has been awarded a national scholarship
Lastly, the Saint Anselm College chapter has won the prestigious Order of the Torch Award for their activities during the 2019-20 academic year. This award highlights excellence in programming, internal communications, campus visibility, and overall presentation of their application.
During the 2019-2020 academic year, the chapter was led by: Elizabeth Rizk, president; Allyson Vermette, historian; Audrey McDonough, publicity manager; Amber Topping, secretary; Stephanie Wilson, treasurer and fundraising chair; Dominique Engle and Danielle Abdennour, academic enrichment co-chairs; Reegan Hussey, membership and leadership chair; Hannah Mullane and Emily Codderre, service co-chairs; Janelle Fassi, junior advisor; and Kyle Silva, senior advisor. The chapter was advised by Dr. Karlea Brunelle-Joiner.
"We sincerely appreciate the work it takes to achieve the Order of the Torch award," said Eileen Merberg, Executive Director of Alpha Lambda Delta National Honor Society. "The students from these winning institutions demonstrated high quality programming, outstanding communication across campus and in their communities, and overall excellence."
Related News