Mission Makers: Bob Collins
October 22, 2020
The mission of Saint Anselm College is as clear as it is compelling: "Saint Anselm is a Catholic, Benedictine college providing all its students a distinctive liberal arts education that incorporates opportunities for professional and career preparation. It does so in a learning community that encourages the lifelong pursuit of the truth and fosters intellectual, moral and spiritual growth to sustain and enrich its graduates' personal lives, work, and engagement within local, national, and global communities." No matter how clear and compelling the mission statement may be - unless the values that support and inform the mission come to life they remain, clear and compelling words, but no more. It takes people, creative and generous people to reflect on the meaning of the words and then to take the next step, a bold step, to translate the words, values, and ideals into something meaningful. In a word they bring the words to life! Perhaps now more than ever, our world, our communities, our neighborhoods, our schools, our workplaces, our playgrounds, our homes need witnesses to the power of the good the true and the beautiful which is effected when the common good is prioritized over individual gain.
In the coming issues of Hilltop Headlines we will be highlighting Anselmians who by their lives and work made the mission of Saint Anselm come alive. These people moved the mission from a static statement recorded in College catalogues and websites into a dynamic paradigm that would shape their destiny and inform their decision making processes. In turn they shaped the world around them. Simply put, these people are "Mission Makers".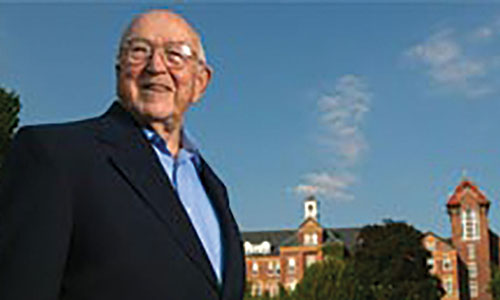 When we were discussing the idea of mission makers, we concluded: who better than Robert "Bob" Collins '37, HD '80 to lead off our series. Known to many as Mr. Saint Anselm, Bob helped shape the identity and destiny of the college he loved "one handshake at a time".
As a student, Red Key member, teacher, mentor, administrator, confidante, husband and father, Bob saw the good in the other and the possibility of each situation. He held each person he met with regard and profound respect. Whether he was teaching English, directing the public relations efforts of the college, serving as Vice President for College Advancement or finally as Executive Vice President and Trustee, he served with humility and listened "with the ear of his heart." (Prologue to the Rule of Saint Benedict) As one of the first lay employees of the college it could be said that like the monks, Bob took the vow of stability for he came to this Hilltop in 1933 and never left.
So, how did Bob Collins make the mission of Saint Anselm come alive?
he prayed
he served
he worked
he helped
he taught
he fought for the good
he led
he smiled
he laughed
he loved
Bob loved his God and was devoted to his wife Dorothy and their children: Robert (Skip) '67, Christine,'73, David '77 and Brian '81. I remember meeting Bob at the luncheon following his beloved Dorothy's funeral in the Abbey Church. He looked a bit confused. I asked him if he needed something and after a moment he said with a tear in his eye, "Father, I was looking for Dorothy to make sure she had a place to sit." Bob Collins always made sure others "had a place to sit" and we all owe him a debt of gratitude.
Although Bob went home to be with his Lord, his legacy and influence continue to live on. Across Saint Anselm Drive are Collins and Falvey Houses named for Bob and Dorothy respectfully. Bob believed in the power of giving back and paying it forward long before that term became popular. Since the year he graduated to the year he died, Bob made a gift to Saint Anselm College.
"If there were gold stars for consistency, Bob Collins would have a string of them…because after he gave his first modest donation to his alma mater, he followed it with a gift every year… for 74 years.
The college has created the Bob Collins Society to honor this loyal alumnus and inspire others to follow his example—because consistent yearly giving is a powerful way to help Saint Anselm stay strong and become even better." (Special Edition of Portraits Magazine).
Will you follow Bob's example of lifelong loyal giving?
Alumni, parents, and friends become eligible for the Bob Collins Society through charitable giving to the college for two consecutive fiscal years (July 1 – June 30) and maintain membership by continuing to give each year. If you were a first time donor to Saint Anselm College in FY20 and give before November 10, 2020 this year, you will receive the 2021 Bob Collins Society Calendar. You will be recognized—as Bob was—as being among Saint Anselm College's most loyal supporters.
In the homily at Bob's funeral in the Abbey Church, Abbot Matthew said, "Bob was what we call in the Benedictine tradition, which he embodied so well, a Vir Dei, a man of God, a man for whom no matter what, God and the things of God occupied the place of primacy throughout his many years."
Thanks to Bob Collins the mission lives on.
Related News