Morrison Named 2021-2022 Fr. Bernard Holmes Scholar
August 30, 2021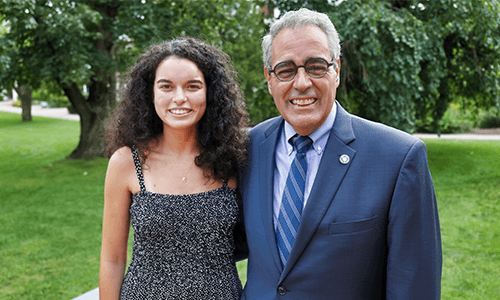 Anastasia Morrison '22, a biochemistry and molecular biology major, minoring in forensic science from Sharon, Mass., has been selected as the Fr. Bernard Holmes, O.S.B., Scholar for the 2021-2022 academic year.
The award is presented annually to an incoming senior, and provides a full tuition scholarship for the student's final year at Saint Anselm College. Holmes Scholars show concern for and work to provide assistance to others, demonstrate leadership potential, and actively participate in the life of the college.
"When I heard the news for the first-time tears came to my eyes and I had a hard time breathing," says Morrison about her conversation with college president Joseph A. Favazza, Ph.D., who delivered the good news. "There are so many amazing community members at Saint Anselm and to be selected for this award has been one of the greatest honors I have ever received."
Morrison is deeply involved in different areas of the college ranging from her work with the Academic Resource Center and the Meelia Center for Community Engagement to her work with Professor Brian Penney, Ph.D., of the Department of Biology as a recipient of the New Hampshire – Idea Network of Biomedical Research Excellence (NH-INBRE) grant.
In the laboratory, Morrison is currently working on a project with Prof. Penney on identification of deep sea octopus tubercle construction. "Ana works incredibly hard– both in the lab and in her other pursuits– and proceeds thoughtfully. She is a team player, and is always up for helping her lab mates or with something the department needs," says Prof. Penney.
In the Meelia Center, Ana works as an Access Academy coordinator, tutor team leader and management team member. "Ana has been actively engaged on our campus and within the broader community since arriving her freshman year and embodies the personal qualities of heart and mind that Father Bernard emulated. Ana seeks to leave each place a little better than she found it, a skill and mindset that we hope all our students will develop during their time with us," says Nicole Lora, director of the Meelia Center for Community Engagement. Morrison was awarded the 2021 Campus Compact Newman Civic Fellow for her research on community engagement with underrepresented high school students, refugees, and immigrant youth.
"Saint Anselm has taught me that there are no limits to what we can accomplish when we work together as a community," says Morrison. "Through the encouragement and support of the community members here, I have seen some truly amazing things come together in the most beautiful way."
Away from campus, Morrison works as a pharmacy technician at CVS Pharmacy in her hometown. She has also participated in Road for Hope during the summer of 2019 and winter break alternative in January 2020.
After graduation next spring, Morrison hopes to continue her service to the community through work with the government or some other form of social service with the goal of reforming and dignifying the experience of individuals involved in the criminal justice system.
Dr. Favazza and Chancellor Abbot Mark Cooper, O.S.B., presented Morrison with a certificate in recognition of her award during the college's opening Mass on Aug. 23, 2021 in the Abbey Church. The scholarship was established through the generosity of Mr. and Mrs. Robert C. Davison, in memory of Fr. Bernard Holmes, O.S.B., former president of the college.
Related Links