National 9/11 Flag Returns to Saint Anselm This Week
April 7, 2014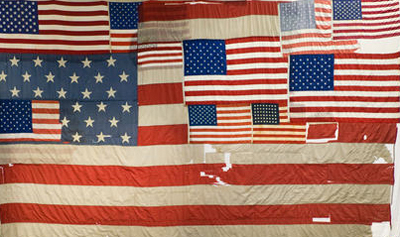 The National 9/11 Flag, which held a place of honor at the inauguration of Saint Anselm College President Dr. Steven DiSalvo in October, will return to campus Thursday, April 10.
At roughly the size of a swimming pool, the flag was one of the largest that flew over Ground Zero in New York City. It was stitched back together by tornado survivors in Kansas. Stitches were added by military veterans, schoolchildren, and others. The fabric also includes threads from the original "Star-Spangled Banner" and a piece of the flag that Abraham Lincoln was laid on after he was shot.
"This flag is truly a national treasure, with history woven into its very fabric," says Dr. DiSalvo.
The flag is a symbol of the resilience and compassion of the American people in the face of disaster, he says. Saint Anselm College is likely the flag's final stop on a national tour, before it is installed at the National September 11 Memorial and Museum at the World Trade Center site.
The flag will be on display through April 14 at Sullivan Arena and will be viewed by school groups and the general public, as well as the campus community and alumni. During the college's Admitted Student Open House April 11, Jeff Parness, chairman of The New York Says Thank You Foundation, will speak about the flag's significance and its journey around the country.
According to philosophy professor James Mahoney, "Each of us will see something different, recall something different, but be drawn to an emotional recognition of the ideals of our way of life can be threatened, that the freedom and pattern of our lives need to be cherished."
"It is an honor to have the 9/11 flag return to our campus," Dr. DiSalvo says. "This is a tremendous opportunity for our community to experience a piece of American history."
Viewing Schedule
---
We invite you to experience this historic flag with us. Public viewing hours at Sullivan Arena:
Saturday, April 12, 10 a.m. - 6 p.m.
Sunday, April 13, 10 a.m. - 1 p.m.
Monday, April 14 10 a.m. - 3:30 p.m.
Dr. DiSalvo invites members of the Saint Anselm College community to a special viewing and reception on Monday, April 14, from 3:30-4:30. Abbot Mark Cooper, O.S.B., will deliver a prayer and a blessing as the community comes together to experience this irreplaceable national relic.
A private viewing for alumni, parents and friends of the college will be offered on Sunday, April 13 from 1 to 2 p.m. A speaking program will follow from 2 until 3 o'clock.
Video Presentation
---
Watch the presentation of the 9/11 Flag from the inauguration of Dr. DiSalvo on October 18, 2013.