Thirty-four Students Inducted into National Scholastic Honor Society
June 11, 2018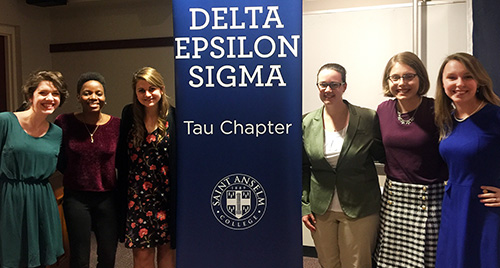 Saint Anselm College accepted 34 students into the Delta Epsilon Sigma national scholastic honor society. The new members were inducted into the Tau chapter during a ceremony at the college on April 8.
Delta Epsilon Sigma (DES) is a national scholastic honor society for students, faculty, and alumni of colleges and universities with a Catholic tradition. Undergraduates with academic rankings in the top 20% of their classes are considered for membership. Candidates also must demonstrate dedication to intellectual activity and service to their community.
Sixteen of the newest members are from the class of 2018; eighteen members are in the class of 2019. The 34 honored students represent 15 majors—particularly English, nursing, and psychology—and seven states: Connecticut, Maine, Massachusetts, New Hampshire, New York, Rhode Island, and Tennessee.
In addition, Jacob Boesch '18 and Samantha Delany '19, both 2018 inductees, were recognized with $1,200 scholarships from the national organization. Boesch, an English major received the Delta Epsilon Sigma Fellowship for Graduate Study. He will be earning his Master's in Education at the University of Pennsylvania in Philadelphia through their Urban Teaching Apprenticeship Program. Delany, a biology major, received the Delta Epsilon Sigma Scholarship for Undergraduate Study for 2018.
Theology professor Patricia A. Sullivan, Ph.D., was also an honorary inductee into DES. The Tau chapter at Saint Anselm College is one of 119 DES chapters nationwide. Saint Anselm College has inducted 652 Tau members to-date.
2018 Inductees
Annmarie Asal '18
Leah C. Benson '18
Amanda L. Bickford '18,
Jenna Kate D. Bisbee '19
Jacob Boesch '18
Madison L. Bressler '19  
Kirstin A. Catyb '18
Andrew M. Cilento '18
Kristen M. DeCoste '18   
Samantha B. Delaney '19
Nicole M. DeRoche '18
Michael J. Dicalogero '18
Kelsey J. Frahlich '18
Juliann E. Guerra '19
Sarah E. Hummel '19  
Caroline M. Ireland '19
Hannah C. Johnson '18
Rowan K. Joyce '19
Lisette A. Labbé '18
Brenda E. Lapierre '18
Emily K. Lowe '19
Jenna R. Lyons '19
Nicolette T. Manzi '18
Alexa D. Murphy '18
Valerie Pauer '19
Emily S. Pierce '19
Michelle Rheaume '19
Jenna L. Sagarino '19
Mallory Schell '19
Rebecca D. Sigman '19
Caitlin R. Sullivan '19
Luke V. Testa '19
Gianna K. Tringale '19
Madison K. Vigneault '18
Saint Anselm College
Founded in 1889, Saint Anselm College is a nationally-ranked four-year liberal arts college providing a 21st century education in the Catholic, Benedictine tradition. Located in the greater Boston region in southern New Hampshire, Saint Anselm is well known for its strong liberal arts curriculum, the New Hampshire Institute of Politics, commitment to inclusiveness, a highly successful nursing program, and a legacy of community service. www.anselm.edu