New Displays at NHIOP
December 11, 2017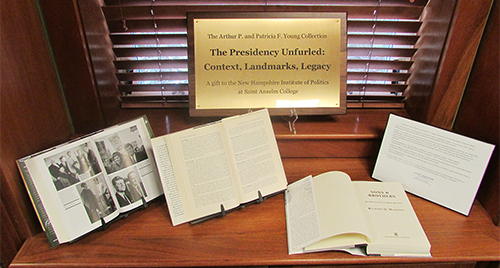 Junior Sarah Hummel is already putting the skills she's learning as a history major to use promoting and preserving history. At the New Hampshire Institute of Politics (NHIOP), Hummel has created two displays that leverage Institute memorabilia and resources, and intends to periodically change exhibits and continue supporting a look at our political past.
In the Seminar Room (4000A) of the NHIOP, Hummel has produced a retrospective of then-candidate John F. Kennedy's 1960 campaign stop in New Hampshire. Black and white photographs, campaign buttons, a campaign hat, campaign poster and a large photomural are described with museum-quality placards. These are complemented by the presence of the very podium from which JFK delivered his final campaign address on Nov. 7, 1960 at Victory Park in Manchester.
"What captured me was learning the story of JFK's coming to Manchester," says Hummel. In developing the displays, she worked extensively with John Clayton, director of the Manchester Historical Association; Ann Camann, deputy director of the NHIOP; and Alicia Finn, Ph.D., dean of students at Saint Anselm College.
The podium was a campaign gift from Roger Brassard, State Chairman for Kennedy's Presidential Election Campaign. It was briefly housed at Manchester City Hall before being relocated to Notre Dame College, a Catholic college in Manchester which closed in 2002. The podium is on long-term loan to the NHIOP, courtesy of Dean Finn, whose prior connections to Notre Dame facilitated its presence at Saint Anselm College.
In the display Hummel has created in the over 3,000-volume New Hampshire Political Library, several titles related to John Kennedy and Robert Kennedy are featured, with each selection open to an especially appropriate reference.
Hummel says the Seminar Room display will change three times a year and will be available for viewing Monday through Friday during regular business hours. The Library display may be revised as frequently as three or four times per semester, and will always focus on books in the Political Library.
"The goal of the displays is to tell a story and convey a message," Hummel says. "A challenge may be a wide variety of materials, or a lack of materials. You may have to present a little so it looks like a lot. But one of the most valuable things I learned is that displays of this kind must be easy on the eyes. For example, the height of displayed materials affects visual appeal and a convenience for the viewer."
A resident of Schodack, N.Y., Hummel says she'll probably pursue public history in graduate school. In the spring semester, however, she will intern with the Manchester Historical Association, studying textiles by analyzing fabric samples from the historic Manchester mills.