New Hampshire Institute of Politics Celebrates 20 Years
September 7, 2021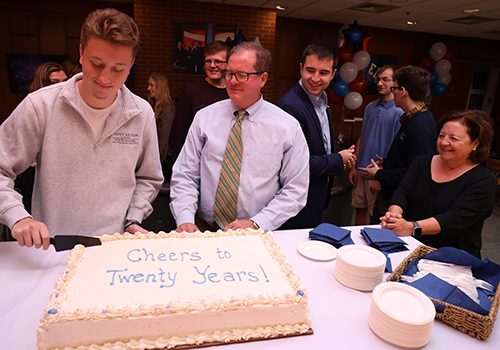 On Tuesday, Sept. 7, 2021, the New Hampshire Institute of Politics (NHIOP) at Saint Anselm College hit a milestone: 20 years of educating, engaging, and empowering citizens in the American political experience.
In celebration of the anniversary, the Institute invited the campus community to an open house complete with cake. College faculty, staff, and students joined institute staff including Executive Director Neil Levesque and Deputy Director Ann Camann, in commemorating the special day. The original guest book was on display as well as the United States flag that flew over the Capitol Building on the Institute's founding day.
The doors of the Institute's twenty-thousand square foot facility opened on Sept. 7, 2001 with a ribbon cutting and academic convocation. President Emeritus Father Jonathan DeFelice, O.S.B., Abbot Matthew Leavy, O.S.B., Politics Professor and institute co-founder Dale Kuehne, and former Professor and co-founder Paul Manuel, were joined by former United States Senator Judd Gregg for the historic occasion.
During the dedication ceremony on September 7, 2001, then US President George W. Bush sent a video message congratulating the NH Institute of Politics. 
"Today, I'm honored to join you in the dedication and opening of this institute. In the coming years, the lives of countless young people will be enriched by the lessons taught here. Students will learn that public service is a noble calling and that good citizenship is an essential virtue."
Today, on the twentieth anniversary of the Institute's founding, Executive Director Neil Levesque stated, "Twenty years ago when President Bush said those words, he was thinking about the future. Now, we look back and see that he was correct. Thousands of students who have come through this Institute, along with thousands of New Hampshire and national figures, have been enriched by the civic engagement, free speech, discussion and debate that takes place every day in this facility." 
Since that opening day, the Institute has become a vital, active center and a significant political arena in local, state, and national politics. Journalists, academics, political pundits, scientists, authors, and presidential candidates, people from across the political spectrum, continue to visit the institute to discuss the most important issues of the day.
Throughout the year, the Institute will continue to celebrate all it has accomplished while also looking ahead to what comes next. Special guests and events commemorating the 20th anniversary will be announced in the coming months. 
Watch the dedication video for the New Hampshire Institute of Politics that took place on Sept. 7, 2001. 
Related Links