Remote Sensing Course Merges Technology and Research Interests
April 3, 2019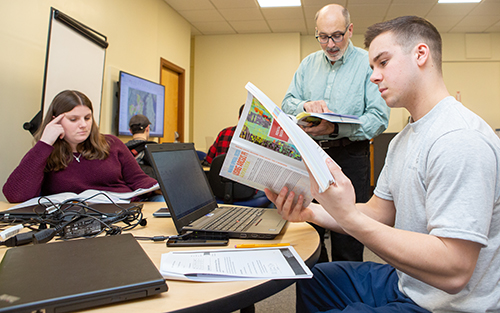 CS211 Remote Sensing, an interdisciplinary class taught by professors David Guerra of the physics department and Carol Traynor of computer science, give students of different majors familiarity with a technology that can offer them endless future career possibilities. 
Offered for the first time this semester, remote sensing teaches students about a tool to save, manipulate, display, and examine data—an application otherwise known as a Geographic Information System, shortened to GIS. Students can then use GIS to create maps that organize and display information aligning with their interests.
Working together the students solve scenario-based situations. They participate in modules, each with a specific scenario and corresponding problem or subject to examine. Most of the data students analyze is real. For instance, one module deals with damages from Hurricane Katrina, and another examines law enforcement and crime in San Diego. Students never know what type of information they may encounter, and find themselves using GIS technology to help solve problems in a number of fields. At the conclusion of each module, independent learning projects are issued, where students have the opportunity to choose a subject that interests them, and pick a question to analyze while incorporating extensive research and GIS technology into their studies.
Collaborative in nature, the course differs from the traditional lecture style. "We [Professor Guerra and Professor Traynor] wanted it to be open to everybody so we can build discussions and lessons," says Traynor. "We try to get the students involved and set them up for working; we show them a few things and talk about what we're doing in that lesson, and then they work individually. They have help from each other and us."
Senior biology major and remote sensing student Connor Gilbert is working on a project with Professor Sean Perrone of the history department to use the GIS software to map Spanish Benedictine monasteries. Gilbert studies taxes imposed on monasteries by the Spanish Crown, and the discounts the monasteries may have received. With the help of Professor Perrone, he examines the locations of the monasteries and analyzes their total distance away from different roads. Gilbert's goal is to identify existing patterns and relationships with the help of spatial technology. He also hopes to use remote sensing and GIS technology in a future job.
Not only do students have access to GIS software that allows them to explore their passions more deeply, but they also have the perfect space, a laboratory room in Poisson Hall dedicated to remote sensing. Divided into pods, each with its own wide-screen television, instructors project their screens onto one or all of the students' screens. This technology compliments the collaborative aspect of the course, and allows students and faculty to communicate more effectively. 
This course is unique for its ability to merge many disciplines. A growing field, remote sensing also inspires students to pinpoint what they are passionate about and explore their interests in a visual, orderly, scientific, and technological way. 
"I would like students to know that they have the ability to study situations spatially across towns, continents, and the world, and that there's a wealth of data out there," says Professor Guerra. "The projects that they can work on are only limited by the questions they can ask."