New Students Serve Others during Orientation
August 20, 2020
In the COVID-19 era, many things on campus have changed but in true Anselmian form, finding a way to give to others has endured. On Monday, Aug. 17, 555 new students joined by 69 orientation leaders (OLs) volunteered their time for the annual Brian Maguire Day of Service. Spread out in classrooms and other campus spaces, students participating in new student orientation completed projects that support the greater Manchester community and the college while learning an important Anselmian value: service to others.
"Although the day of service was remote this year, we were able to bring community voices and experiences onto campus through projects that provide a positive impact to our neighbors. This is especially important as our community continues to respond to the challenges of the pandemic," says Director of the Meelia Center for Community Engagement Nicole Lora '06.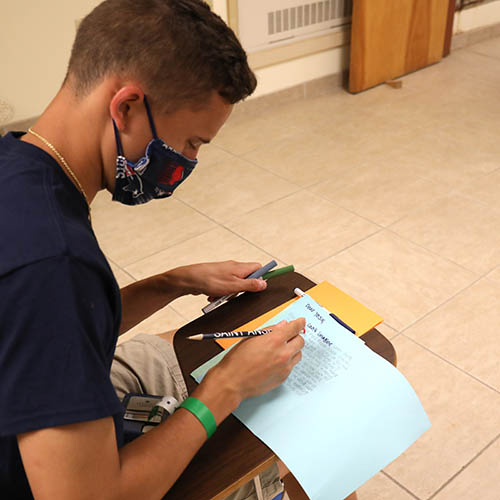 Working in their orientation groups, participants spent time in service and then reflected on their work with their orientation leaders. In the New Hampshire Institute of Politics (NHIOP) auditorium, with plenty of space to physically distance, students filled drawstring bags with hats, mittens, scarves, blankets, toothpaste, and other self-care items. In the picnic grove next to Grappone Stadium, students raked leaves; in the Roger and Francine Jean Student Center Complex, students assembled back-to-school kits for Girls, Inc.: backpacks filled with age appropriate supplies and a "good luck" letter. In classrooms, students wrote letters and made posters for students and teachers at local schools; a group created artwork and positive messages for elderly residents struggling with isolation.
"Many of the projects provide a sense of hope or joy to individuals facing challenges as a result of our current reality," Lora says. "Now, it is more important than ever that we remain connected to the larger community, even while being physically distant. The day of service gave our first-year students the experience that service and connection is still possible and important."
Lora says the goals of the day of service are to build bonds between the students, introduce them to the ethic of service, complete important community work, learn about the opportunities available to serve others, and finally, to begin rooting the students in their new community.
Orientation Leader Parker Petruney '22 and her orientation group wrote letters to high school students in Manchester wishing them good luck and encouraging them to stay positive as their school year begins remotely. She emphasized the importance of the day of service in grounding the new students' understanding of life at the college as well as the role it plays in educating them on their new community. "We learned that the high schoolers' second language was English so we talked about how 10 minutes down the road is a group of people with very diverse backgrounds," says Petruney, a business major and communication minor.
Down the road, Orientation Leader and economics major Guy Parenteau '23, made blizzard bags for homeless youth with his orientation group. "It shows new students what the Saint Anselm College community does for the greater Manchester community. And usually we would do it in person but we still tried our best this year with COVID to make sure that we're still able to help out our community."
Through their service work, participants wrote almost 500 letters to students, created 40 positive posters for schools, and organized 80 back-to-school kits. Overall, they would be making a difference for more than 660 people.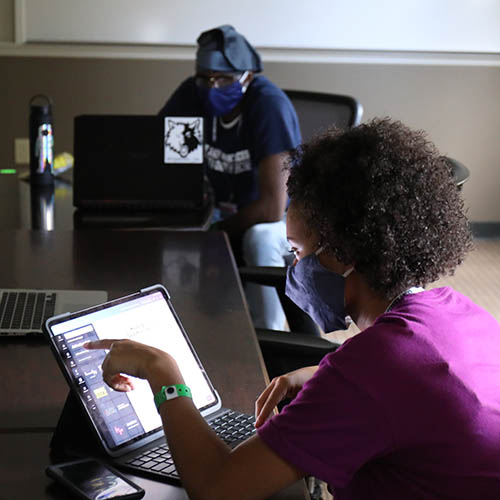 In addition, last week's Transitions Day of Impact organized by the Meelia Center and The Father Jonathan, O.S.B., Center for Intercultural Learning and Inclusion will likewise benefit members of the Manchester community. Through that smaller day of service, eight groups of Transitions Program participants engaged in projects related to ethnic and cultural diversity. Incoming students worked on service projects that included creating a social media campaign for ethnically owned businesses in Manchester and another to promote an ethnic food pantry list.
As the college has had to adapt in order to bring students back to campus this fall, the Meelia Center has also had to modify their work with community partners. All community engagement opportunities will be virtual including service-learning. The Meelia Center will continue to support community partners, some with direct engagement like tutoring high school and middle school students through Google or Zoom. For more information about service opportunities visit the Meelia Center's Anselm Engage site.
The day of service originated 20 years ago in honor of former student Brian McGuire. Meelia Center professional staff will deliver all the materials to their community partners in the coming weeks.
Related News