Education Major Receives Award for Service to Community
March 29, 2018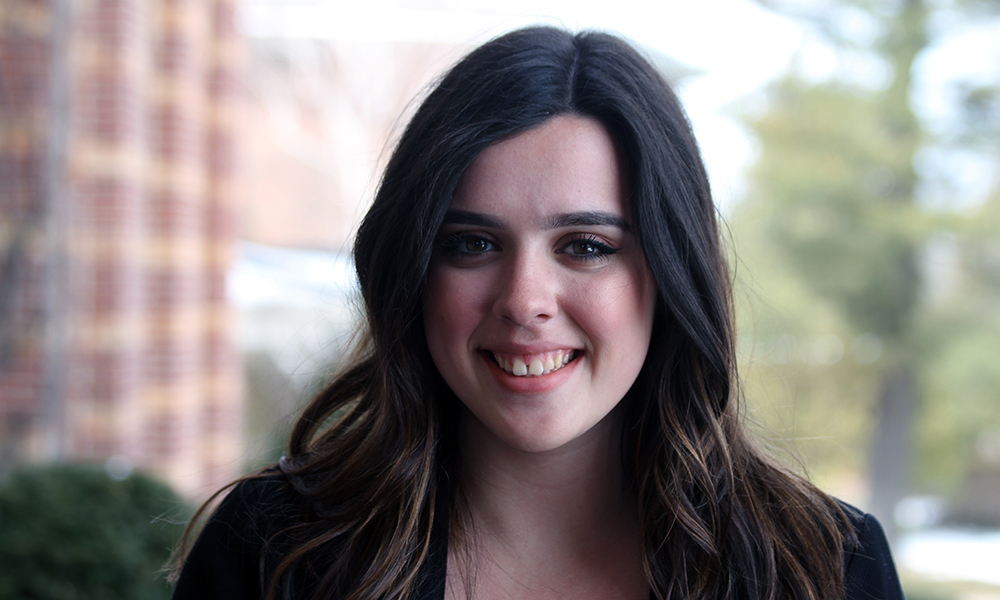 Colleen Toomy '20, an education studies: elementary education major and ESOL minor from Londonderry, N.H., was chosen to receive both Saint Anselm College's Presidential Leadership Award and Campus Compact's Newman Civic Fellowship for her leadership and dedication to serve the community at-large.
Offered by Campus Compact, a national coalition of over 1,000 colleges and universities dedicated to the public purposes of higher education, the Newman Civic Fellowship honors students nationwide who have demonstrated their commitment to social change and worked to find solutions to face challenges in their communities. Toomy was nominated for the fellowship by Saint Anselm College President Steven R. DiSalvo, Ph.D., who saw that her actions mirror the beliefs and deeds of Dr. Frank Newman, founder of Campus Compact. Newman was a strong advocate for fostering student civic learning, participation in service, and community engagement.
Toomy's work as a coordinator and student leader for the Meelia Center for Community Engagement's Access Academy program has not only contributed to the program's growth, but directly impacted the high school students whom she teaches.
As a first semester freshman, she volunteered for the Access Academy program, which provides on-campus classes for immigrant, refugee, and underrepresented high school students from Manchester N.H. Through that experience, she realized the injustices faced by these populations and worked to empower the students, creating a new course on human rights based on their interests.
The course examines the UN's International Statement on Human Rights, U.S. Bill of Rights, Malala Yousafzai's Nobel Peace Prize speech, the U.S. Civil Rights Movement, women's rights, labor rights, and LGBTQ rights.
"I became passionate about helping Access students attain new knowledge and skills, and earn high school credits that would help them graduate high school and pursue their dreams," says Toomy. "Once hired as a coordinator for Access Academy Humanities, I realized that the curriculum could be better tailored to student needs. Access students described multiple educational barriers, but they lacked skills to advocate for their rights. With this student need in mind, we developed a unique curriculum, still rooted in humanities but focused on human rights."
"Colleen has inspired student leaders in the other nine Access Academy courses to elicit greater input from Access students to revise course design and curriculum," says President DiSalvo.
"Through her work Colleen has also added another goal for Access Academy: to help students develop the confidence to assess the educational programming directed at them, and to put forth their own ideas and contributions in course redesign. This empowerment approach has long lasting impact on the high school students and their ability to advocate for themselves and their communities," he says.
Toomy is teaching the human rights course again this semester, as the team leader and a mentor to her fellow teachers. In addition to teaching 30 hours a week at McKelvie Intermediate School in Bedford, N.H., for her education clinical, she volunteers at the John H. Sununu Youth Services Center and is a resident assistant.