Ninety-seven Nursing Students Receive Traditional Blessing of the Hands
January 29, 2020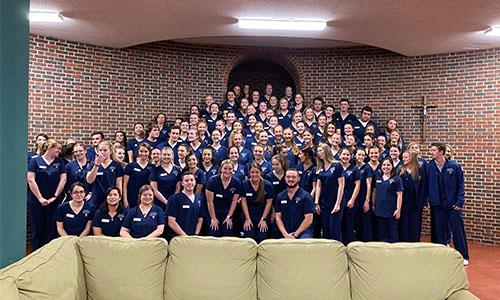 In preparation for their first clinical experiences, Nursing students from the class of 2022 received a blessing of the hands at a special ceremony in the Abbey Church on Jan. 24.
Members of the Saint Anselm community, as well as family and friends attended the blessing in support of the 97 future nurses. The ceremony is a beloved tradition for the college's student nurses.
"For me, the blessing of the hands is a ceremony to celebrate the work we are about to do in the community," said nursing major Molly O'Brien '22.
One by one, the students were called to the altar to get his or her hands blessed by nursing professors Jennifer O'Neill, Caryn Sheehan, Melinda Ferguson, and Susan Kinney.
Fr. Mathias Durette, O.S.B., presided over the blessing.
The students proudly wore their clinical rotation uniforms at the blessing for the first time: navy blue scrubs embroidered with the Saint Anselm logo and leather white clogs.
"The ceremony prepares us for clinical because it centers us and allows us to reflect on a lot of what we learn in class surrounding our Benedictine values" said Olivia Goldberg '22. She added, "It grounds us before we embark on our clinical journey."
Dr. Maureen O'Reilly, executive director of nursing, gave the opening remarks and welcomed the guests. Megan Dromey '20, Student Nurse Association president, addressed the students. Both speakers offered words of encouragement to the sophomore students.