Notes from the Hilltop - Summer 2022
August 23, 2022
Hilltop Academy Wraps up Four Week Learning Experience
This year's Hilltop Academy session came to a close on August 6 after 16 participants spent four weeks delving into New Hampshire culture and important college skills. From working closely with faculty in the classroom, hiking excursions, to trips to the Currier Gallery of Art and New Hampshire State House, the program delivered an extraordinary learning experience.
Ally McMahon '25 participated in Hilltop Academy last summer and came back to the program as a student leader this year. "Hilltop Academy allowed me to meet new people and make friends before the school year started, get a jumpstart on my academics by learning what a college education entails, and truly get a taste of college life," she said.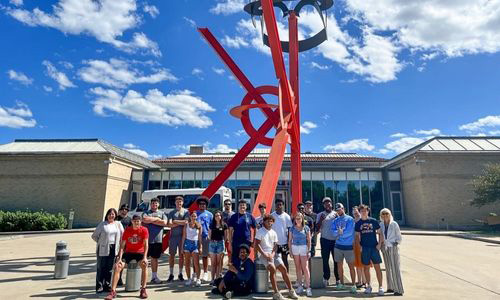 Hilltop Academy is a bridge program that prepares students for their first semester of college by completing two courses, earning four course credits with no additional tuition cost, and engaging with fellow students and faculty.
"The program helps [students] navigate the challenges of college life and recognize the resources available to help them be successful at Saint Anselm," explains Marilu McCambly, director of Hilltop Academy.
 "As their very first academic experience at the College, Hilltop Academy provides incoming first-year students with academic skill building opportunities in a fun, hands-on, and engaging environment," said Benjamin Horton, Ph.D., assistant dean for first-year students and academic support services.
"My hope for all of these students is that the transition to college is softened, and I look forward to building my relationship with each of these students in the fall," said McMahon. After successfully completing the Hilltop Academy program, the first-year students will arrive on campus soon and begin putting their knowledge to use.
120 students participate in Anselmian 360
During the last week of June, 120 members of the class of 2026 came to the Hilltop to explore the Saint Anselm values and think about their role as new members of the community. Anselmian 360 is a unique opportunity for incoming students to reflect on who they want to be in college and how to achieve their personal goals.
Anselmian 360 is an overnight experience for incoming first-year students to reflect on three important Saint Anselm values: the individual, the community, and the divine. Participants share conversation in small groups, reflect on their values during activities, grow in community with one another, and learn about the experiences of upperclassmen during talks. This year, A360 took a trip to Chuckster's Family Fun Park in Chichester, N.H. where groups bonded during a high ropes course with a zipline, mini golf, go-karts, bumper boats, and more.
Two-part summit encouraged Education Equity (EdQuity)
In a two-part special event, the EdQuity Summit brought together educators, youth organization staff, and INBRE faculty and fellows from various disciplines to focus on Education Equity. The summit was designed for participant growth in equity competence building skills while exposing STEM and non-STEM educators to bioinformatics and biomedical career pathways.
Phase one of the event took place on June 16 with a combination of lecture, seminar, and experiential learning opportunities. The goal of this summit was to "enable participants to deepen their cultural knowledge to work effectively with students traditionally underrepresented in biomedical careers, while empowering inclusive student engagement with games and play-based learning," wrote Dr. Loretta Brady, of the Psychology Department.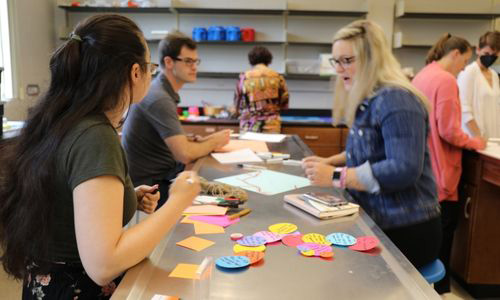 The second element welcomed youth educators and their students to campus on July 27 for a youth-focused STEM experience. Saint Anselm students and faculty participating in INBRE research this summer were invited to present at the event in order to share or develop science communication and outreach skills in their INBRE experience.
The EdQuity Summit hosted by Professors Loretta Brady, Ph.D., of the Psychology Department; Theresa Dabruzzi, Ph.D., of the Biology Department; Nicole Gugliucci, Ph.D., of the Physics Department; Ph.D., and Kelly Demers, Ph.D., and Aubrey Scheopner Torres, of the Education Department.
Biology professor travels to Bahrain to examine effects of climate change on pearls
Professor Theresa Dabruzzi, Ph.D., an assistant professor of biology, traveled to The Bahrain Institute of Pearls and Gemstones (DANAT) headquarters in Manama to discuss environmental biology research and pearl shells of the region. The event was held in collaboration with the Arab Regional Center for World Heritage (ARC-WH) for all present to delve into the physiology of pearl oysters and their thermal tolerance as climate change persists. DANAT is dedicated to reviving the Bahrain pearl sector and ensuring its sustainability. Professor Dabruzzi's visit provided the opportunity for increased knowledge and awareness of how climate change impacts pearl formation.
Summer Activity on Campus
Written by Grace Trabucchi '23
While students were away on summer break, Saint Anselm was still buzzing with activity. Between all the events, meetings, camps, and conferences, over 25,000 people visited campus over the course of the summer. This included:
•    Athletic camps, clinics, practices, and games brought 4,500 students. The largest of those athletic events was the CHaD (Children's Hospital at Dartmouth-Hitchcock) High School Football All-Star Game in June, which raised more than $67,000 for the children's hospital. 
•    Dance recitals brought in the most visitors to campus with over 6,000 guests in attendance. The Dana Center hosted seven different dance companies, including the New Hampshire School of Ballet, A Dance Vision by Nicole, and the New England School of Dance. 
While most of the visitors came from off-campus organizations, many Saint Anselm departments are working to develop their own presence on campus during the summer as well. The Center for Ethics in Society ran a drone camp in which high school students learned how to build, program, and fly drones, along with taking part in ethical discussions about modern technology's influence on our daily lives. Athletics also hosted a variety of athletic clinics, including a football showcase clinic and a women's lacrosse clinic. In total, 500 students attended a Saint Anselm-operated camp this summer. 
 
Related News