Nursing Students Gain Clinical Experience in Costa Rica
January 11, 2018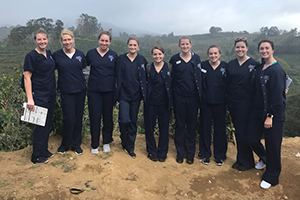 This week, eight Saint Anselm College nursing students are completing clinical work in Costa Rica through the course, Community & Public Health Nursing (NU449). Led by nursing professor Pamela Preston, the junior nursing students are assessing families in the community to provide health education, and then referring sick patients to receive health care in the clinic the group sets up and works.
The winter break trip is one component of the spring semester course, which explores the role of nurses in health promotion and disease prevention globally. Upon their return to the classroom, the students will continue to discuss the concepts of epidemiology, communicable disease, environmental health, and disaster relief—all with an emphasis on public health issues. 
Participant Mallory Schell '19 says that the course takes a holistic approach to treatment. "It has a focus on not just assessment but on the resources available to vulnerable populations, and learning how to treat the whole person," says Schell.
She also notes that the skills she's gaining will benefit her domestic clinical experiences, making her more flexible and helping hone her ability to explain symptoms, treatments, and conditions. "In Costa Rica we will be going door-to-door and our responses will be completely situational. I won't be able to fix everything, which will be difficult to deal with at first, because the resources are not the same," explains Schell.
Director of International Programs Sarah Keefe explains that essentially, these student-nurses are "preloading their clinical experience." They will complete their clinical hours in Costa Rica, rather than New Hampshire, garnering valuable hands-on nursing experience abroad, as well as the opportunity to practice their Spanish language and communication skills.
Prior to the clinical rotation and course, the nursing students were encouraged to focus on their assessment skills, teaching, and cultural references.
This annual course will also be available to nursing students in August 2018. For more information, contact Assistant Professor Pamela Preston or the Office of International Programs.