Nursing Students Score 100 Percent on NCLEX Licensing Exam
March 18, 2020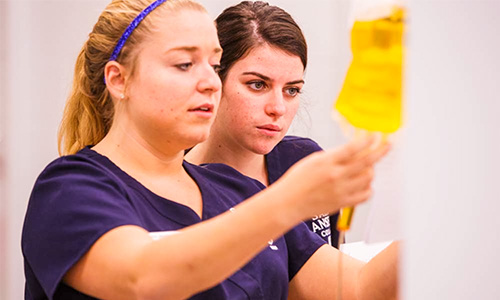 The Saint Anselm College nursing program has once again earned a perfect score on the NCLEX exam, the national licensing test for nurses in the United States and Canada.
All Saint Anselm students who took the NCLEX in 2019 passed the exam. It is the second year in a row and third time in four years that 100 percent of students passed the standardized test. The only "blip" came in 2017, when Saint Anselm nurses scored 96.97 on the NCLEX -- still significantly higher than the national average.
Dr. Maureen O'Reilly, RN, the executive director of the nursing program, pointed to three ingredients that have led to a Patriots-like level of success: great students, faculty and curriculum.
"We have to be good," O'Reilly said. "To begin with, we have really good students, and we have a great faculty and I think we have a great curriculum, which is not only the nursing curriculum but the college curriculum as well – the liberal arts aspect of what is taught. All in all, I think it makes a great package."
NCLEX is an abbreviation for the National Council Licensure Examination. Passing the test is a requirement for those wishing to receive a nursing license. Test-takers have up to six hours to successfully answer between 75 and 265 questions assessing operational knowledge of nursing practice.
According to the National Council of State Boards of Nursing, the pass rate for U.S. nurses in 2019 was 88 percent.
The results of Saint Anselm's nurses are particularly noteworthy considering that all students are required to take core classes in humanities, philosophy, theology and other disciplines that are not standard at many schools.
O'Reilly pointed out that a liberal arts education distinguishes a Saint Anselm graduate.
"It helps them deal with the whole person," she said "In the nursing department, we talk about treating our patients holistically, but when they're in their other courses, whether it's ethics or Bib Theo or a history course, they're learning more about culture, about ethical issues, and they're going to use this information when they care for patients. It makes them a whole person, so that they can approach the patient as a whole person, and not just a diagnosis."
Saint Anselm nursing students also participate in many service opportunities and some of them are able to complete their clinical experience for the Community/Public Health course in an area of Costa Rica where medical care is virtually nonexistent. The curriculum also integrates mental health nursing concepts and clinical activities in every course throughout the curriculum which is very innovative.
As for the NCLEX winning streak, O'Reilly said that students and faculty are well aware of it, and while nobody wants to be the class that doesn't earn a perfect score, the rigors of the program prepare the students for the difficult test.
"When I talk about our high standards one of the first questions I ask the freshmen is, 'do you want to be a mediocre nurse?' And they all kind of look at me with big eyes – because of course they want to be the best nurse possible. So this program is rigorous, but the students work hard and the faculty works hard with them."
The nursing pinning ceremony is scheduled for April 18. However, the College is evaluating all upcoming events in light of the rapidly changing COVID-19 threat.