O'Malley Receives Fr. Bernard Holmes Scholarship
August 27, 2019
Rose O'Malley, '20, an English and Spanish double major and member of the honors program, has been selected as the Fr. Bernard Holmes, O.S.B., Scholar for the upcoming 2019-2020 academic year.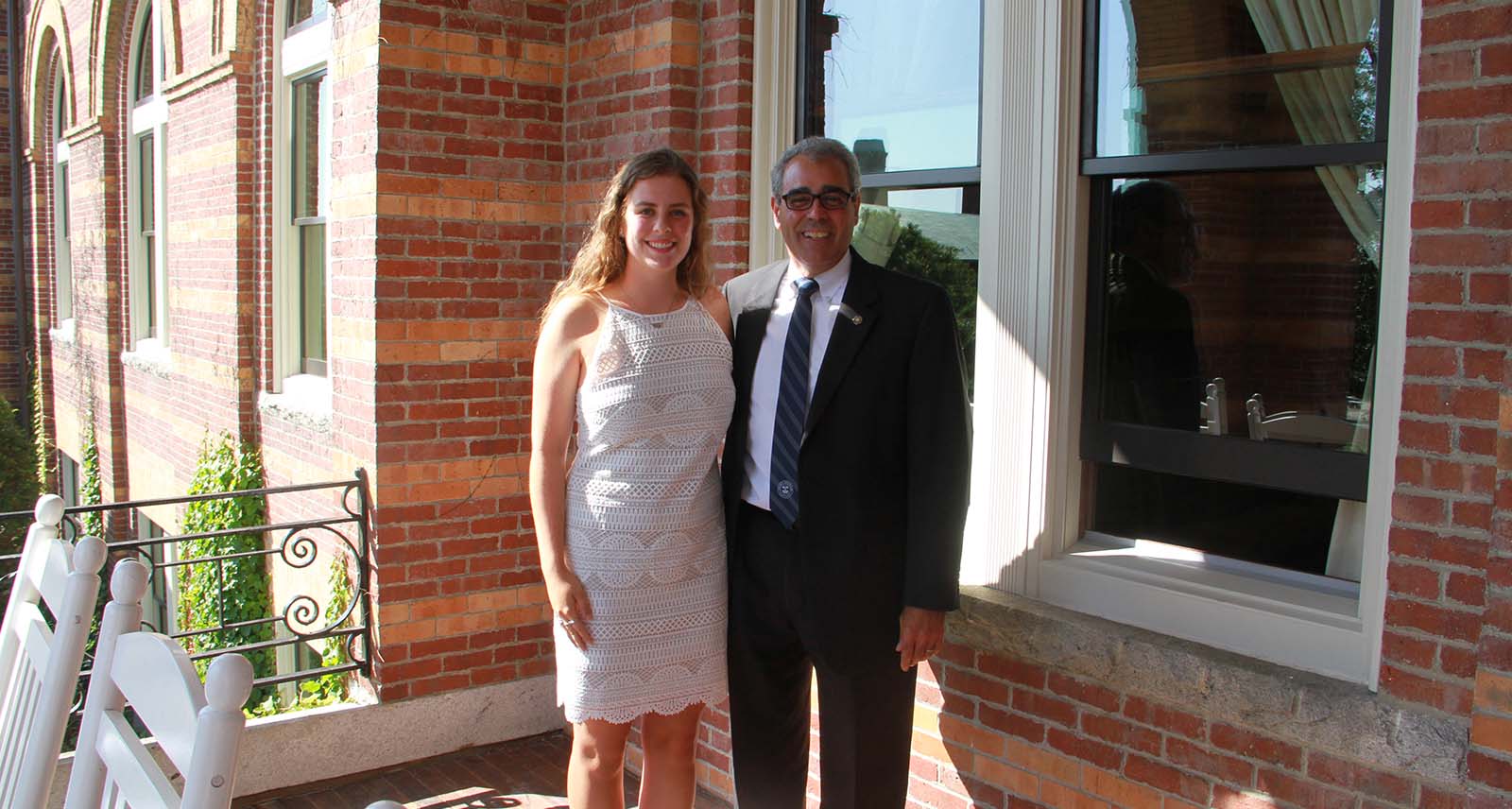 President Joseph A. Favazza, Ph.D., and Chancellor Abbot Mark Cooper, O.S.B., presented O'Malley with a certificate in recognition of her award, during the college's opening Mass on August 26, 2019 in the Abbey Church. The scholarship was established through the generosity of Mr. and Mrs. Robert C. Davison, in memory of Fr. Bernard Holmes, O.S.B., former president of the college. 
The award is presented annually to an incoming senior, and provides a full tuition scholarship for the student's final year at Saint Anselm College. Bernard Holmes scholars show concern for and work to provide assistance to others, demonstrate leadership potential, and actively participate in the life of the college.
"I am so humbled and honored to have received the Father Bernard Holmes Award," says O'Malley. "I am grateful for every day at Saint Anselm College, and I owe much of my growth to the incredible community of students and staff. I am proud to call Saint Anselm my home."
With her interdisciplinary research, her enthusiastic involvement in a myriad of service projects, and her unwavering dedication to improving the lives of others, O'Malley is an outstanding example of Saint Anselm College values, as students like her are part of the reason the college's community is known for being warm, welcoming, and charitable. O'Malley works at the Meelia Center for Community Engagement as a co-coordinator for Access Academy, a program that teaches critical writing and thinking skills to students of refugee, immigrant, and underrepresented families, to support them in higher education and career aspirations. In this role, O'Malley organized the placement of volunteers in the Manchester School District elementary and middle schools, and visited a fourth grade classroom weekly, monitoring the progress of the program as well as bonding with the students.
The breadth of O'Malley's experiences extend far beyond New Hampshire. She studied Spanish in Granada, Spain, and participated in two Service and Solidarity Missions Trips with the Office of Campus Ministry, one to Orland, Maine, and one to Los Chiles, Costa Rica. "These were extremely valuable and meaningful opportunities that allowed me to serve the community and work alongside my classmates in a constructive and supportive environment," says O'Malley.
In addition to her support of others through service, O'Malley's academic work uplifts the oft-ignored narratives of marginalized peoples. This past year, she completed two honors projects with Professor Thorn in the English department, one focused on the history and voices of the native Ojibwe people, and the other on the story of a young enslaved woman in 18th Century Jamaica.
Despite the time O'Malley pours into bettering the world through academics and volunteer work, she finds time to be an avid participant in Saint Anselm College campus life and events. She has worked at the Geisel Library and the Office of Residential Life and Education. She recently completed the college's Road for Hope. She is a member of Delta Epsilon Sigma and plays on an intramural volleyball team, and loves to engage in Saint Anselm College traditions such as Mind Over Major, Relay for Life, Foster and Adoptive Parent Night Out, and the Valentine's Day Dance.
This fall, she will write her senior thesis on Alice Walker's The Color Purple, a classic intersectional novel focused on issues facing black women in 1930s America. She also plans to expand Access Academy while in her new role as a student management leader. O'Malley emphasizes how service work has impacted her life. "These jobs have strengthened my love for Saint Anselm and helped me grow into a more unassuming and empathic person, with a focus on community and education."