Multimedia updates will appear here throughout the event. Come back for more updates as the event progresses.
---
Inside the Democratic Debate at Saint Anselm College
On February 7, 2020, the nation's eyes were on Saint Anselm College as it hosted the democratic debate featuring candidates for president. This video shows the electric atmosphere on campus and what it meant to the college community.
---
Saint Anselm Students on a Mission to Meet All Presidential Candidates
Julianne Plourde '20 and Sarah Murphy '20 have wanted to meet all of the presidential candidates since freshman year. Did they complete the quest four years later? Watch to find out.
---
Debate Week at Saint Anselm
After a week filled with events, see photos of all of the excitement below!
---
A "Once in a Lifetime" Experience
After a late night in the spin room following the Democratic Debate, students reflect on the exclusive opportunities given to them both on and off the Hilltop.
---
Post-Debate Action
Candidates and their surrogates headed to the Spin Room post-debate to talk to the media. Students got in on the action as reporters or ABC student-runners.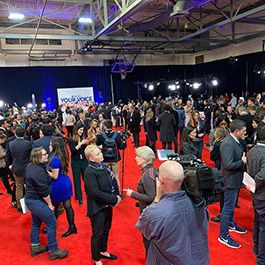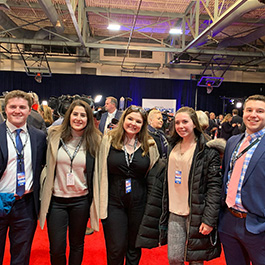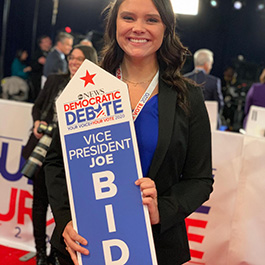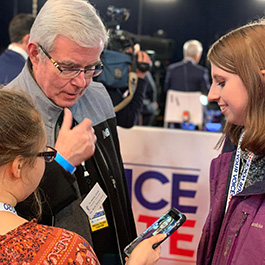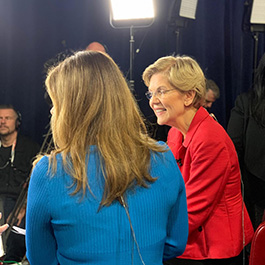 ---
Dr. Favazza Takes the Stage
College President Dr. Favazza took the debate stage tonight, saying "How we create citizens is through our curriculum. We ask our students the big questions: what is the meaning of life and what's the best way to live and how do we form community, what is truth and knowledge but certainly another way we do that is through civic education, civic engagement, and civic discourse. I can't think of a better way to teach that than this gathering tonight."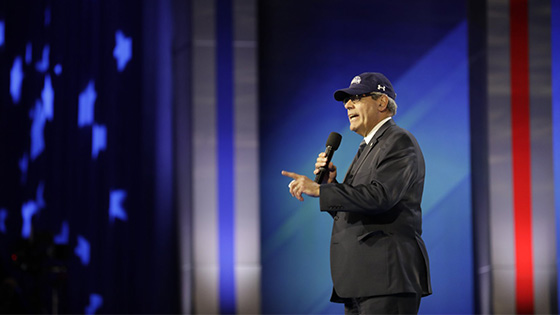 ---
Saint Anselm Students Speak Opportunity
Moments before tonight's Democratic Debate began, Saint Anselm students talked about how the opportunity to attend enriches their lives. Watch what they had to say.
---
The Countdown Is On!
In preparation for the Democratic Debate, excitement has been building all over the Hilltop! All of the action has transformed the Sullivan Arena, and the rest of campus, into the nation's political epicenter. Tune in to ABC tonight at 8 p.m. (EST) for the Presidential Primary Debate!
---
Olivia Teixeira '20 Speaks About Working with ABC News
"This is the reason I came to Saint A's, so having this opportunity is everything," said Olivia Teixeira, '20, about her job helping out ABC News during Presidential Primary Debate week. Watch this video interview with Olivia about why she wanted to get involved.
---
Interview with ABC News' Kelsey Walsh
Watch this video interview with Saint Anselm alumna Kelsey Walsh who is covering the 2020 election for ABC News. She will be at the debate on Friday night on campus.
---
Debates at Saint Anselm: What to Know
The Hilltop is buzzing about the Presidential Primary Debate and candidate town halls this week. Neil Levesque tells you what to expect and why it's an opportunity for our students to shine!