President's Event Celebrates Excellence in Diversity and Inclusion Innovation
February 26, 2020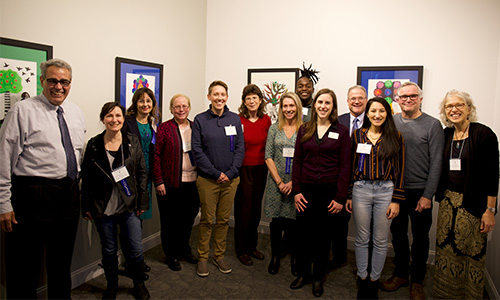 On Wednesday, Feb. 19, the college celebrated excellence in research and innovation at the President's Innovators Reception, the inaugural event showcasing Diversity and Innovation Fund Recipients.
Alumni, faculty, staff and students joined Dr. Joseph A. Favazza, college president, to hear from a panel featuring prior fund recipients. Alumnus Michael Akinlosotu '18, Kenneth Walker, student Sneda Hoda '20, and history Professor Beth Salerno, Ph.D., discussed their experiences with the Diversity and Inclusion Innovation Fund.
Opening the event, Dr. Favazza welcomed the group of faculty, staff, students and alumni in attendance and emphasized the importance of the funds in fostering inclusive excellence in a strategic way. "I've been so impressed by the creativity especially around diversity and inclusion and the ways in which we take that seriously on campus," he said. "When a college thinks about this in a curricular and co-curricular way, it strengthens who we are and is consistent with our Catholic, Benedictine values."
The Diversity and Inclusion Innovation Fund supports faculty, staff, monastic and student community members in the development of a project that will advance diversity and inclusion. The funds encourage cross-campus collaborations to improve diversity and inclusion for long-term community growth.
Akinlosotu returned to the Hilltop to share his experience. As a student, Akinlosotu collaborated with English professor Michael New, Ph.D., on their Diversity and Inclusion Innovation Fund, hosting a three-part series of discussions on Angie Thomas's novel The Hate U Give. The discussions began with the novel followed by an analysis of poems by 20th-century African American poets, presentations from New and Akinlosotu, and then an open mic for students to present their own written work.
"It was cool to talk to people about my culture and to create an open space to learn and discuss it," said Akinlosotu reflecting on his experience. He also shared how rewarding it was seeing participants write poetry and make connections between the book, the poems and the music. "It encouraged me to bring people together for important conversations using music and literature," he said.  
Akinlosotu, who was a computer science major, now works in Washington, D.C. as a STREAM (Science Tech Reading Engineering Art Math) instructor teaching music production and robotics to third- to eighth-grade youth.
"It was great being back on campus," he said. "I appreciated the warm welcome from new and familiar faces. The innovation fund helped me work in fields outside of my major and sport (football). The campus community got to experience me in those different fields too, and it made us all more connected."
Kenneth Walker, director of the Academic Resource Center (ARC), shared his two programs resulting from the grants. The fall semester's "Foundations in Health Care Training" Program for Visiting Students with Intellectual Disabilities was a collaboration with clinical nursing faculty member Joanna Parolin and the training program she developed Foundations in Health Care. This semester's second program Neurodiversity and Lifelong Learning is a collaborative initiative with Saint Anselm College students, visiting learners with intellectual disabilities and retired senior members of the local community through the Moore Center and Birch Hill retirement community. Psychology professor Elizabeth Rickenbach and her Brain Aging and Dementia class are involved in the current program.
Senior computer science major Sneha Hoda discussed the fund she and her co-recipient, alumna Pauline Yates '19 received last year, Empowering Women in Computer Science. Under the advisement of English and gender studies professor Jennifer Thorn, Ph.D., Hoda and Yates educated themselves about the gender gap in computer science and technology through conversations with successful women in tech at conferences focused on mentoring women and people of color. They conducted information-gathering about fellowships aimed at bringing women into computer science and companies that especially support women. Lastly, they hosted a film and discussion on campus.
"It was inspiring to hear what support of woman by other woman can mean," said Hoda. She said it also encouraged her to volunteer at the Meelia Center for Community Engagement's Access Academy program, teaching high school-age students programming skills. She has already secured a job in her field at Fidelity Investments following her graduation in May.
Finally, Professor Salerno, shared her experience taking students from her fall 2019 team-taught course to New York City. Salerno and modern languages professor Jaime Orrego, Ph.D., developed and taught Latinx History and Literature in the United States in the fall of 2019.
The weekend's trip fully immersed students in the Latinx culture, making the history come alive said Salerno. She was reminded by the power of story and struck by the students' shared experience and their need for processing time, "Students were connecting their New York reality with a new New York reality that they hadn't experienced before."
About the Diversity and Inclusion Innovation Fund
Diversity and Inclusion Innovation awards range from $500 to $2,500, and are administered through Ande Diaz, Ph.D., Chief Diversity Officer (CDO). Projects are chosen by a review committee including staff, faculty and students, and chaired by education Professor Diana Sherman, Ph.D., a member of the President's Steering Committee on Diversity and Inclusivity (PSCDI).
The deadline for the fall 2020 semester grants was Feb. 26.  Award recipients will be announced at the end of March.
Related News