The Princeton Review Names Saint Anselm One of "384 Best Colleges"
August 7, 2018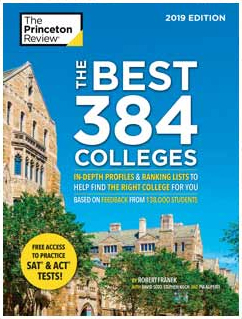 The Princeton Review Names Saint Anselm One of "384 Best Colleges." Saint Anselm College has been named 8th in the nation for Best Campus Food, and 6th for Happiest Students, according to The Princeton Review in the newest edition of its college guide, "The Best 384 Colleges." The college also garnered a top mention as 18th for Most Engaged in Community Service, and was included on the "Best Northeastern" and "Colleges That Pay You Back" lists. Only about 15% of America's 2,500 four-year colleges are profiled in the guide.
The primary criterion for selection is outstanding academics. This year, Saint Anselm College received an academic rating of 89 (up from last year's 87), and comments from students surveyed on their classroom experiences included: "Students feel 'challenged and enthused' by their professors and note that 'discussions inside and outside of class are fantastic.' Professors 'seem to love their job' and there is an 'accessible, friendly, and inviting atmosphere in the classroom.'"
One of The Princeton Review's most popular guides, "The Best 384 Colleges" rankings are based on surveys of 138,000 students at 384 top colleges including a wide representation by region, size, selectivity and character. Published annually since 1992, the book has detailed profiles of the colleges with rating scores in eight categories as well as ranking lists of top 20 schools in 62 categories. Find more information on the rankings and methodology.
An average of 359 student surveys per campus are the basis upon which ranking lists are annually tallied. Amongst other things, the findings from these surveys determine the "Students Say" lists featured on school profiles, reporting the topics on which the students showed the highest level of consensus. In Saint Anselm's 2019 profile:
             Students are happy
             Lab facilities are great
             Internships are widely available
             Students are friendly
             Students are very religious
             Students get along with local community
             Students involved in community service
             Great food on campus
             Recreation facilities are great
             Very little drug use
             Intramural sports are popular
             Alumni active on campus
The college also received a campus quality of life rating of 93, highlighting the range of campus activities and experiential learning opportunities available, as well as the college's emphasis on the Benedictine values of hospitality and service.