Professor Emeritus Arthur Kenison Passes Away
September 1, 2017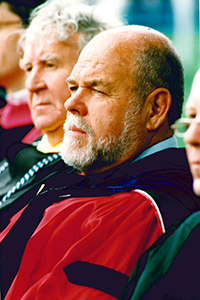 Arthur M. Kenison, professor emeritus of economics, died on August 23, 2017 at his home in Hampton Beach, N.H., after a brief illness.
Born in Evanston, Ill., on July 25, 1939, Art graduated from Saint Anselm College in 1963 before going on to earn advanced degrees from Columbia University in New York City, the University of New Hampshire in Durham, and his Ph.D. in economics from Boston University.
He retired from Saint Anselm College in December 2011 where he had taught from 1967 through 1973 and then again from 1980 until his retirement. Between 1973 and 1980, Art taught at Rollins College and Crummer Graduate School of Business in Winter Park, Fla. In addition to his career as a college professor, he was a highly respected and sought after consultant in the field of forensic economics.
A longtime resident of Hampton Beach, N.H., and Fort Lauderdale, Fla., he was an avid golfer and enjoyed traveling in Europe and the Caribbean. A passion for the history of the Amoskeag Manufacturing Company in Manchester led him to publish two books on the subject, Dumaine's Amoskeag: Let the Record Speak and Frederic C. Dumaine: Office Boy to Tycoon. He followed these books up with a third publication, An Electrifying History: Public Service Co. of New Hampshire.
Art is predeceased by his wife of almost 49 years, Jeanne H. (Lebel) Kenison and is survived by his two daughters, three granddaughters, and two brothers.
Services are as follows:
Calling Hours
Monday, November 20, 2017
4 - 7 p.m.
J.N. Boufford & Sons Funeral Home
110 Bridge Street, Manchester, N.H.
Mass of Christian Burial
Tuesday, November 21, 2017
10 a.m.
Abbey Church, Saint Anselm College
In lieu of flowers, donations can be made to the Saint Anselm Scholarship Fund.