Recent Graduate Awarded NH Student Nurse of the Year
June 29, 2018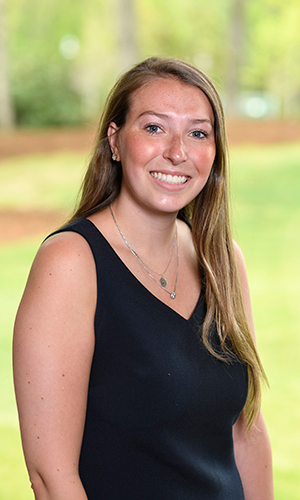 This spring, Hannah Glover '18 was named Student Nurse of the Year by the New Hampshire Nurses Association. The award is given to a student nurse who embodies the finest qualities of nursing: caring, professionalism, advocacy, leadership, and involvement.
Glover was nominated for the award by Professor Carrie MacLeod, who was Glover's professor of critical care nursing. "Hannah displayed the curiosity, compassion, and caring that is inherent and so important to nursing. She is an incredible young woman who truly embodies the art and science of nursing," says MacLeod.
Having worked together in both classroom and clinical settings, Glover says MacLeod has been an instrumental mentor to her over the past two years. She also credits her education at Saint Anselm College for her success in her nursing journey thus far. "I would not embody many of the qualities this award stands for, such as leadership and professionalism, if it had not been for Saint Anselm," Glover says. "The teachings of holistic nursing care that I now value so immensely and were taught to me so profoundly by Professor Fournier especially, have helped me develop some of the finest qualities of nursing."
Glover expresses her passion for nursing as being able to make a difference in someone's life, especially during the most challenging of times. As a student working as a home care nurse in Massachusetts, she formed close relationships with her patients, one of whom was post-stem cell transplant and undergoing chemotherapy for multiple myeloma. She went above and beyond to support her patient both physically and mentally, including planning an in-home shopping day to lift her patient's spirits.
Glover has stayed in touch with those patients and visits them often. "I have been there with them through some of their darkest hours and now celebrate their health, increasing progress, and well-being. It is hard to express how life changing it is to care for someone from day one of a completed chemotherapy treatment, when they are so weak they can barely shift their weight in bed, to three months later when you hold his or her hand as they take their first steps without a walker," she says.
She also volunteers at a hospice center and for the Pan Mass Challenge in Cape Cod, raising money for cancer research.
On campus, Glover was a member of the Student Nurses Association, co-chair of this year's Nurse Pinning ceremony, and a clinical leader as part of a new Nurse Leadership and Management course at Saint Anselm. Professionally, she is a member of the Oncology Nursing Society.
Glover, who graduated in May, will begin working full-time in August at Massachusetts General Hospital in Boston, Mass., as part of the ICU float team.
Related Links