Remote Learning Environment Demonstrates Community's Collaboration
April 30, 2020
As spring semester classes wrapped up on April 29, students and faculty closed out an experience that they had not anticipated but in true Anselmian spirit, managed with collaboration, creativity and grace.
Two weeks after winter break, the college pivoted to a remote-learning environment due to the worldwide coronavirus pandemic, with faculty and staff moving 654 classes online including native speaker sessions and labs.
"What I am most struck by is the spirit of cooperation that has informed so much of the move to remote instruction," says Dean of the College Mark Cronin, Ph.D. "Everyone involved — students, faculty, staff — have demonstrated a commitment to the Anselmian education, and we're proud of them for that."
"I'm impressed by the institutional support and impressed by the faculty," says Sociology Professor and Faculty Senate President Tauna Sisco.
She says that throughout the process supporting the needs of the students was at the forefront of everyone's minds.
Moving to Remote Learning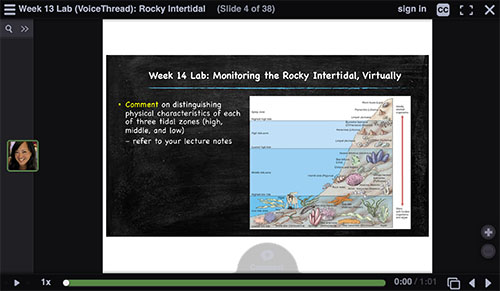 On March 13, Dr. Joseph Favazza, Saint Anselm College president, announced the college was sending students home to continue their education online, beginning on March 23.
As students were packing up, faculty and Information Technology staff were getting to the business of what it would take for 211 faculty to teach their previously in-person courses remotely.
Instructional Technology Specialist Cindy DiMascio '08 immediately started giving training sessions and sharing online teaching resources with faculty. In the span of one week, she met with more than 100 faculty members through workshops or individual consultations.
Professor Sisco acknowledges that the success of the remote-learning transition is in large part thanks to the diligence and dedication of the college's Information Technology (IT) staff, especially DiMascio and Chief Information Officer Steve McDevitt. "One hundred percent of the credit goes to IT. Some superheroes wear capes, some work in IT at Saint Anselm College," she says.
In addition to IT staff, other faculty members, some currently on sabbatical, volunteered to help colleagues with individual Zoom lessons or how to use discussion threads, among other topics.
Politics Professor and Associate Dean Christine Gustafson created communications on various resources for faculty and students, adding content to the college's learning management system. She says events unfolded quickly but reiterated how essential collaboration was in the rapid transition.
Even though faculty are no longer physically working together on campus, they are staying in touch with one another through virtual pub nights and regular Center for Teaching Excellence coffee hours. The online connections give them a chance to exchange ideas, resources, and provide each other support not just for the classroom but also on a personal level, as each individual is challenged with the pandemic in their own lives.
In Information Technology, DiMascio is continuing to support faculty with ongoing trainings and preparing for summer online courses, and the IT Help Desk is available to answer calls and emails if faculty, staff, and students run into challenges throughout the day.
Teaching Online during a Pandemic
Across the board, faculty are teaching in different ways, says Professor Sisco. Some professors are meeting with their students at the scheduled course time while others post a module for the week on a designated day that provides students the flexibility to watch the lecture or do the readings in their own time.
Faculty have adapted their courses based on student needs. Several professors surveyed their students to learn about their access to technology, preferences on learning styles and concerns with aspects of remote instruction so the new class styles could be tailored to better fit individual students in this new environment.
Professor Sisco has "office hours" during her regularly scheduled class blocks so students can schedule time to talk or to be tutored. She stressed the importance of her own flexibility to help her students learn the material and support them during this challenging time.
Biology Professor Lori LaPlante is using VoiceThreads, slides, video, and high-resolution images to walk students through a lab in her BI321 Marine Biology course. She initially designed the lab to be done in the field—at the coast in Rye—but has found ways to adapt.
"I did a lot of searching online looking for resources that would give the students as close to a 'field experience' as possible. I think I did a pretty decent job and the students were very pleased with it overall," she says.
The technology she's using allows her to replicate the back-and-forth dialogue that a face-to-face meeting would provide. She says it is also more accessible for her students, an added bonus.
Biology major Madison Columbus '21 is currently in Professor LaPlante's marine biology lab and while she finds the new format challenging in some ways (not being able to physically touch specimens or see intertidal zones in person), she says she thinks it's going well. "I am learning new material, just as I would be if we were on campus, and I have more time to complete my work," says Columbus.  
"My professors have been lenient and available more than I thought, which is so helpful. I attend Zoom calls to speak with both my classmates and my professors, and we address any questions or concerns. It is reassuring to see and speak to my classmates and professors because we are all going through this experience together."
As the semester comes to an end, the college is continuing to monitor student performance and well-being, ensuring students are supported during this difficult time. A survey is going out shortly to elicit feedback from students on the experience. In addition, the college passed a new policy that allows students to opt for a pass/no pass grade. Students will have the opportunity to see their grade before determining if they want to take a "pass" or "no pass" in the class for the semester. Dean Cronin advises students to consult with their professors and advisors, as the pass/no pass option could affect GPA and certain eligibilities.
Virtual Campus
Although no longer on the Hilltop, the college has created a virtual community where events, programming, and services are still available to support students.
The Academic Resource Center is still offering tutoring sessions and final exam review sessions. Health Services is forwarding resources for health and wellness, departments and offices have scheduled hang-out sessions so students can stay connected.
The Alumni Office has shared webinars for alumni and faculty with the entire community so students could participate in programming like "Tom Brady is a Buccaneer: How did we get here?," with New England Patriots Insider for NBC Sports Boston Tom Curran '89. Additional news and events can be found on the Anselmian Hub, including a video on dining services' delicious whoopie pies.
---
The Chemistry Department's video on their distant learning experience this semester.
Related Links